Juxtapoz
Dana Woulfe "Conflict and Resolve" @ Lot F Gallery, Boston
Sep 13, 2013 - Oct 04, 2013Lot F Gallery, Boston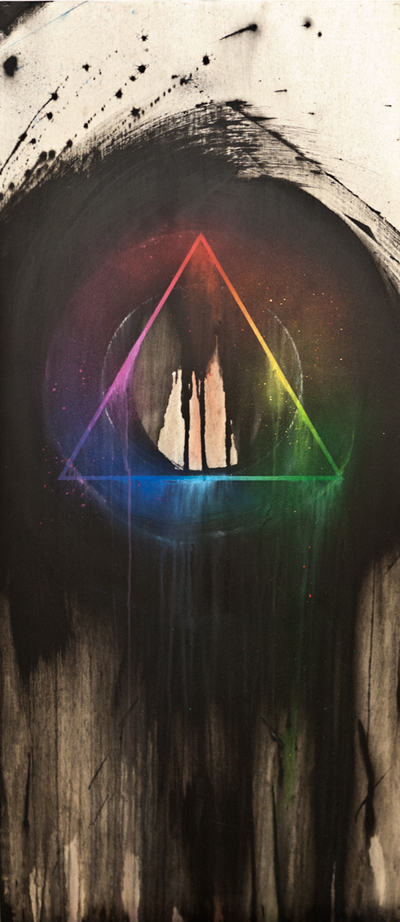 Downtown Boston's Lot F Gallery is proud to announce Conflict and Resolve, a solo exhibition by Dana Woulfe. The gallery welcomes Woulfe back after two highly acclaimed duo shows with former studio mate Kenji Nakayama, an installation and residency at Montserrat College of Art, an exhibition at Hellion Gallery in Portland, Oregon, his largest mural projects to date, and the arrival of his first child."

Using aerosol, watercolor, oil paint and collage to develop abstracted compositions with crisp, rich color palettes. Dana fully abstracts his sometimes lettering-inspired works for "Conflict and Resolve," transforming them into dynamic waves and crashes of color. Cambridge-based artist, Juxtapoz contributor, and author Caleb Neelon has this to say about Dana's new show:
Dana Woulfe and I have gotten to know each other a lot better in the past eighteen months: our daughters were born two months apart in the second half of 2012, and we both took on a good chunk of daily childcare duties while our wives got back in their respective grooves as professionals. Dana had quit his full-time design job to dad it up, and we spent a lot of time at each others' houses with an eye on the kids, talking about the same absolutely insufferable crap every new parent talks about ad nauseam: feeding, pooping, napping, baby products. And, of course, we talked work-life balance, which in our case as artists translates to giving in to a bit of weepy navel-gazing about the gulf between the work we're making and the work we think we could be making were it not for the new little center of our lives. Then the kids do something cute and we realize we're actually getting back into the swing of it after all.
Rather than scale down his practice, he and longtime art partner Josh Falk moved into a new 4,000 square foot studio in order to take everything they were doing steps further. Conflict and Resolve, Dana's new body of work on display at Lot F in September, is proof of it. His collection of medium and large-scale works continue his fascination with motion, dynamics, and gravity. He's left anything representational behind. One of my favorites of the bunch, 'Feels Right,' has a convex shape and represents a beautiful new direction. 'Art is a Battlefield,' a large-format piece in collaboration with his BFF and former studio mate Kenji Nakayama, is a stunner. And it all reflects that freedom and confidence of stepping into the next stage of life. —
Caleb Neelon
OPENING RECEPTION:

SEPTEMBER 13th, 7-11PM


SHOW RUNS:

September 13th –October 4th, 2013