Juxtapoz
Dale vN Marshall "Beauty in the Wound" @ Soze Gallery
Aug 23, 2014 - Sep 27, 2014Soze Gallery, West Hollywood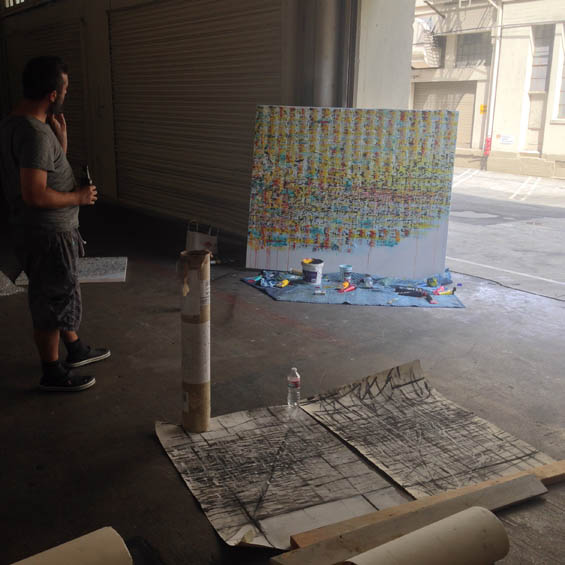 This Saturday, August 23rd, Soze Gallery will be presenting "BEAUTY IN THE WOUND," a solo exhibit of former graffiti artist Dale vN Marshall's works, marking his second solo exhibition in Los Angeles with SOZE and his first at their new West Hollywood location.
About Dale Marshall and "Beauty in The Wound"
The exhibition follows his brutally honest and heartfelt 3‐month museum exhibition in Central England at the Herbert Art Gallery and Museum titled 'Walls with Wounds 'which received British public acclaim attracting well over 8000 visitors, some travelling from as far from these shores of Northern and Southern California. Wales-based Marshall, who studied Graduate Abstract Painting at CSULB, has enjoyed success in the UK and the US, and is proud to be bringing his work back to Los Angeles.
Beauty in the wound is a new chapter for the artist. After declaring a powerful and emotive story with "Walls with Wounds," Dale has found a new peace within himself and it shows in this varied body of contemporary painting work. Marshall's layered, heavily textured works consist of painterly abstract expression and controlled mark making, etching and relief, whilst embarking on an amazing journey of self discovery through his unique processes of painting. About the exhibit Dale vN Marshall says, " I am really excited to return to this wonderful city of Los Angeles where I have spent 1 year studying under professors Marie Thibeault and Tom Krumpak nearby at Cal State Longbeach. The new body of work is a natural progression. On this occasion I have produced a refined show living for the present, painting small color studies, monotype woodcuts, etchings, and heavily textured Abstracts on canvas. Beauty in the Wound is focused on finally embracing My past, enjoying present life and continuing to work through a roadmap of discovery."
Dale vN Marshall "Beauty in the Wound"
Soze Gallery, West Hollywood
Opening August 23rd, 2014