The Interweaving Worlds of Chuck Sperry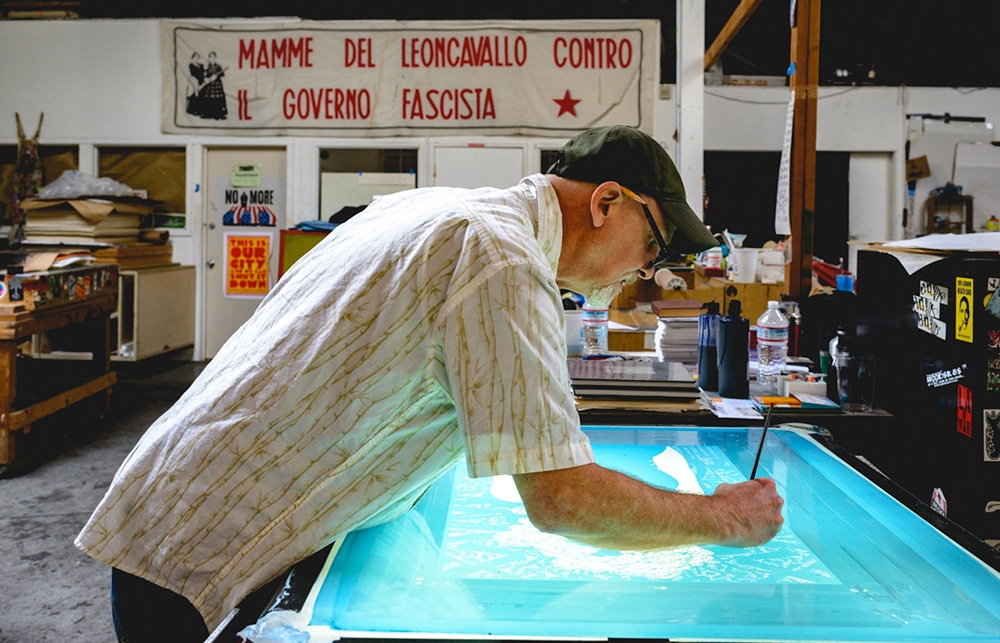 In anticipation of his new show, Heaven of Many a Tangled Hue, at Spoke Art, Chuck Sperry sat down with Spoke's curator, Dasha Matsuura, to briefly flip through the annals of his prolific career. They cover an immense amount of ground, and Sperry speaks at length on his art editorial career, music posters, his art collection, and quite a bit more. Interviews like this serve are pleasant glimpses into the intersecting worlds of art, music, journalism, and nearly everything else. Read on below.
In anticipation of his new show, Heaven of Many a Tangled Hue, at Spoke Art, Chuck Sperry sat down with Spoke's curator, Dasha Matsuura, to briefly flip through the annals of his prolific career. They cover an immense amount of ground, and Sperry speaks at length on his art editorial career, music posters, his art collection, and quite a bit more. Interviews like this serve are pleasant glimpses into the intersecting worlds of art, music, journalism, and nearly everything else. Read on below.
You've become a rock poster legend. What was the first gig poster you ever did? How did you first start working with the Fillmore?
I'll try to be brief — there are so many experiences that prepared my for my present life ... y' know it's complicated being a legend, haha!

I did a lot of local punk rock xerox flyers starting at the University of Missouri in Columbia, where I was pursuing my dual major Art and Journalism. Posters for bands with names like: Art Sluts, Bone Deep, Three-Legged Dog, Blind Idiot God, while making a punk zine called Java.

The Journalism school I went to was tip-top. I went to school expecting to turn out as a writer. But really within a month I was not concentrated on writing any more — I was suddenly the school editorial cartoonist.

My parents were good friends with Mike Peters, the Pulitzer Prize winning editorial cartoonist famous for destroying Richard Nixon with his satirical op ed cartoons. Peters took me under his wing. I'd meet him on school breaks, when I'd go back home to Dayton, Ohio. I would trundle over to The Dayton Daily News and show him my editorial cartoons. He was really generous to critique my work. God he used to make me laugh! He was about the most sarcastic person I ever met! Stories!

I negotiated with my school councilor into letting me study Journalism and Art as a dual major. The art department was headed by Frank Stack, who is credited as America's first underground cartoonist under the pseudonym Foolbert Sturgeon. He created a very biting comic book series, a satire on religion called "The Adventures of Jesus" in the early 60's. His pen name was intended to make everyone believe Gilbert Shelton was the author; Frank and Gilbert co-edited The Texas Ranger, which was a very good humor magazine at the University of Texas in the late 50's early 60's, and of course, Gilbert Shelton was quite well-known for underground comic classics "Wonder Warthog" and "The Fabulous Furry Freak Brothers."

I was the editorial cartoonist for the maneater for four years, with an editorial, twice a week, every week. I learned how to cultivate, entertain and move an audience through that experience, a very valuable lesson. I also learned how to deal with criticism, because almost everything an editorial cartoonist draws pisses off someone!

I left Missouri and moved to New York City and lived on the Lower East Side where I co- edited World War 3 Illustrated with Peter Kuper, Seth Tobocman, Eric Drooker, and others. Over the years World War 3 Illustrated has published political and satirical artwork by James Romberger, David Wojnarowicz, Anton Van Dalen, Sue Coe, Art Spiegelmann, and many others. It's still coming out once a year to this day!

There was a violent police riot in Tompkins Square Park in 1989, and about that time I moved to San Francisco, because New York was a combination of very heavy and very expensive. I started work on an underground newspaper called Filth Weekly Weird News, as the art editor. I contacted many, many artists to make covers and comics: Robert Crumb, Spain Rodriguez, S. Clay Wilson, Rigo 23, Victor Moscoso, and Gary Grimshaw.

Soon after moving to San Francisco, I worked at Comic Relief comic book store on Haight Street. Nancy Langhofer, my girlfriend, was the store supervisor. We had such a blast at that store! She sort of let me run an Filth Magazine editorial office from the front counter cash register, as long as I sort of worked too. As comic store clerk / art editor, I often got contacts with artists when they visited the store.

Robert Crumb came in to shop with Spain Rodriguez. Spain was cool, I had run a cover of his in Filth Magazine. When Crumb came to the counter to buy his comics, I asked him to contribute to Filth. He hates that sort of thing! But Spain said really gently and cool in his ear, "Robert, these guys are really cool. You should!" Crumb kind of grimaced and said, "Oh alright. I'll look at your ... what is it? ...Filth." He came back about 40 minutes later, and handed me his sketchbook, and said, "Which one of these do you want? Here, have a look." When I chose a bunch of drawings with post-it bookmarks, he asked, "Where's the copy machine?" I directed him to the pharmacy across the street and gave him a handful of dimes.

When Crumb returned he said, "You know I'm doing this because you guys are a bunch of pathetic losers, and you will never succeed." It was like he was welcoming me to the club!

I showed my work to art director Arlene Owseichik at Bill Graham Presents, and she hired me to make posters for the Fillmore in 1994. The Fillmore had opened up again in 1993 and I received my first poster commission for Superchunk. I've done about 15 posters for the Fillmore; I made posters for Hot Tuna, Chris Cornell, Los Lobos, Flogging Molly, Gov't Mule, Pennywise, and Circle Jerks. My favorite Fillmore poster was F1000 (their 1000th poster design) for The Pretenders in 2009. I got to go off on my Pretenders poster with spot silver metallic ink; I conferred with their printer, Great Impressions, to run a tinting color over the silver ink — in an offset version of my signature silkscreen printing style.
Are there any musicians/bands you haven't gotten to work with yet that you would like to?
I've made signature posters for Bob Dylan, the Rolling Stones, The Who, Eric Clapton, Mickey Hart, Patti Smith, Joan Jett, Joe Strummer, and The Beatles. I've made cool rock posters for Black Sabbath, MC5, Pearl Jam, DEVO, Blondie, Soundgarden, Queens of the Stone Age, Foofighters, and The Black Keys. I have done multiple posters for favorites Widespread Panic, Ben Harper, Dave Matthews, Ben Harper, Leftover Salmon, and Umphreys McGee. Recently, I made some damned fine posters for newcomers Twiddle and Greensky Bluegrass. There's been two or three really cool posters, two skateboards and project collaborations with Nick Cave ... But somehow, Led Zeppelin has escaped my grasp!
Many of your fine art prints are based on figures from your gig posters. What is the translation process like for you?
There isn't any translation. In fact, I am creating the image I want to extend my artistic vision. It's subversive and intermingled like that. The rock posters work as pieces of art, because I have this motto: just because it's a poster for the general public, doesn't mean it should not be the finest art possible. I toil for rock poster designs just as much as I do for my art prints.
Screen printing is such a core part of your art practice and the medium itself plays such a big role in your work. Each print is so impeccably clean and perfected I think it is easy to forget or overlook that you are an incredibly talented draftsmen and illustrator. You start with pencil and ink drawings, are you ever tempted to change medium? Or explore other ways of making work?
Tempted may not be the right way to express my relation to other mediums. Tempted sort of sounds like I'm not doing what I love! I am drawn to other mediums. That's for sure!

Time is the main consideration. I have been working in both the fine art world and in the rock poster genre since I was first represented by the gallery scene in 2009. And started working with Spoke Art in 2010. There's so much work to make, working in posters and in the gallery scene.

I learned an important lesson at that time. It was at this same time, I was asked to make an installation for the San Francisco Museum of Modern Art, Window Gallery. I began provisionally asking myself, how does poster design translate into fine art, into painting; I scratched that line of inquiry immediately. I committed my internal dialog to this: "Just do what you do." I made a 11 foot by 9 foot acrylic painting, with screen printed appliqué. The piece sold in 10 days to a tech entrepreneur, surprising both me and the museum with the rapidity of the acquisition. It's important to follow your gut.

I have a solo museum exhibition at the end of the year at Fort Wayne Museum of Art, I'll be exhibiting 25 oak panels, original drawings, and ephemeral printing progressives (to show how I work),and I'm presenting two large format tapestry works. I'm really excited about the exhibition!

We've talked a bit about how much you like drawing texture/hair and if you were to make abstract work, you would start there. Have you been considering making more abstracted work?
Yes, I consider abstraction. I think about abstraction and fragmentation in art a lot; the concepts feel suited to our times.

I wandered around Art Basel this year (my third year showing) with Brett Amory, and his eye is convincing! Seriously, we got into a discussion that went for a few days about the trends and themes coming through the fair: digital abstraction, digital mark making, artifacts and glitches, fragmentation, obfuscation, erasure of the subject.... it was a blast to rap out with Brett who gets it, works on the cutting edge. The experience will no doubt influence future exploration.

There's all that free-form abstract jamming I do when drawing textures and hair; it's very meditative and I like to translating that to painting and printmaking.

My current work has much more to do with symmetry and proportion, color and balance. It's a utopian provocation; while the present era couldn't be more off balance, more dystopian. I want my work to provoke meditation and emotional responses to it's clear colors, balance and symmetry — to give courage, light and beauty to all of us trapped in an ugly historical moment. I don't want to fragment my work ... not just yet ... or abstract or dissolve; I think of my work from the last few years as defiant in these dark times. I like to think I give people courage through it. It gives me courage to work on it.
Figures are such a prominent part of your work. When you incorporate musicians you use reference imagery, but your muses/female figures aren't typically referencing particular people. Is there a reason you don't shoot models for reference?
I've made a self-conscious decision to present my figurative subjects with a flattened distortion, filling these flat areas with swirling color and pattern. I'm really drawn to ukiyo-e, pictures of the floating world, a naturalistic, concise stylization, presenting an intimate, engaging figure with ephemeral color (color-tinted metallics that change according to the angle of the viewer).

The titles are based on Greek mythology, sometimes other cultural legends and occasionally literary references. I aim to touch archetypes, natural spirit energy, ritual forces, iconography with humanist aim.

When I post my art online, one of the most oft repeated reaction is: "(tagged name) this looks just like you!" See, my reduction of detail is meant to look just like you. It works!
Your patterning has so many distinct inspirations from William Morris and nouveau to graffiti. Where else do you look for inspiration on patterns?
In the natural world. I often get color ideas for my patterns from a good walk around my neighborhood the Haight Ashbury, the panhandle, Golden Gate Park in San Francisco! I'm hugely influenced by William Morris for his art and his theory. I love his insistence on handiwork, and his credo: Art for All. It's very appealing to me and my social and political leanings.

I also love photographing layers and layers of graffiti tags - to use as a basis for making abstract explorations — wherever I find a good thick jumble of humanizing tag work. This makes a really great basis to sketch abstract forms from — there's some much energy! When it's layered really thick, there's no single author, just a burst of human energy and activity!
Poetry and writing also figure prominently in the inspiration of your work. Can you talk about any specific pieces of writing that are incorporated into this body of work or inspired elements of these pieces?
I was reading P. B. Shelley, and encountered a poem I had not seen for a long time: The Sensitive Plant.

I started reading Shelley because I keep crossing his historic path when I travel Europe. I show in a gallery called Next Door in Geneva, the town where Percy and Mary Shelley stayed when she wrote Frankenstein, great book. I lived in Italy for a year in a small house on the Golf of Poets, named because Shelley and Byron (and later DH Lawrence) lived there. Shelley died at sea in the view out my window there. His body was burned on the beach, because he was an atheist and the graveyards refused him, intriguing story; and that spot was visible from my window too. Sounds so damned Romantic! But I dig his words!

The Sensitive Plant drew me in because it made me wonder... Reading the lines, it described a beautiful garden with flowers representing natural spirits, the spiritual energy of nature, all tended by a figure one can only surmise represents human love and care, a sort of Venus figure. I responded to his view of nature in this poem and our place in it (not very central), and felt it described really clearly the themes and representations I make in my work. Nature sort of moves on without us with it's own consciousness, whether we see it or not.
Greek mythology plays a huge role in your work. What first drew you to it? Are there any particular myths you were interested in depicting for this show?
A central triptych in my solo at Spoke Art is very loosely, thematically based on the women only festival or ritual Thesmaphoria, a closed ritual devoted to Demeter. The three pieces show Anodos (Ascent), Demeter (Mother Goddess), and Kalligeneia (Beautiful Creation). It is the harvest festival, a ritual fertility sacrifice, and celebration of the creative forces of womanhood practiced in ancient times.

During Thesmaphoria (also Haloa, another ancient Greek ritual) the middle day was believed to be reserved for ritual obscenities and binding curses — only in the company of women — in other words, it was a ritual centered on the sacredness of honest communication, the therapeutic relief of expressing the truth, the power of free speech. I felt that this was a worthy theme to pull from ancient Greek myths and rituals to bring to contemporary attention. An ancient observance where democracy and ritual intersect.

Freedom of Speech is our most powerful weapon, and it's a driving force in my art.

My solo has additional, relevant mythic references in it. There's a piece called "Circe": a sorceress who turns rude men into pigs. "The Ostracon" is an impeachment allegory. Through that piece I met Dr. John Camp the Director of the Agora Excavations of the American School of Classical Studies in Athens. He very generously permitted me to attach his thoughts — an essay about bringing back the ancient democratic practice of ostracism: a more simplified, more regular form of impeachment — as commentary to The Ostracon.
Many of the Greek myths you reference in your work have a very deep reverence for women, femininity and beauty. How do you feel those characters and stories speak to or are influenced current social movements and changes?
The ancient myths have a lot of readings, a lot of angles for understanding them, and have presented themselves in myriad interpretations to human thought over centuries. I'd like to tie something back to these myths — from the perspective of the left — as we move forward and progress. I'd prefer to emphasize the messages in the myths that are speaking to our contemporary values. There is — to me — much of value for progressive intellectual meditation in these myths and stories.

I read a lot of anthropology side-by-side with mythology. I'm reading Jane Ellen Harrison, "Prolegamena to the Study of Greek Religion". She revolutionized the anthropology of ancient Greek society, ritual and religion. She comes from a feminist perspective. Her insights reveal the folk-rituals and beliefs beneath the idealized Greek Myths, and idealized religious rituals. There beneath our present traditions and institutions are matriarchal foundations.

I'm updating the representations of these traditional art subjects, with respect for the feminine aspect in them, to emphasize the feminine principle in our esteem and regard. I sense this to be part of the zeitgeist of this decade. So I'm expressing that in my work.
Social activism is a major component of your practice. Do you think that has roots in your background in journalism? How has the political landscape affected your work? How does your activism show up in the studio?
My activism is stronger now that we have Trump and all of his erratic, cruel policies. Right now I've concentrated my efforts on the core American value of our Democracy, to keep it safe and preserve the ability to make social change in the future. Lately, I think that the ancient invention of democracy as a form of self-government as a radical idea. I don't see democracy as an end. I see it as the a priori to justice and true equality. So if we want to move toward greater equality and more enlightened justice, we must first save democracy.

I use my experience making popular posters for popular music; I use the same communication and distribution techniques to make activist posters. And lots and lots of them, especially now!

I made 5000 posters for the first Women's March in 2017 with of all proceeds going to Planned Parenthood. I made another poster for last year's March For Science for Albert Yu- Min Lin, national geographic explorer. And another poster for the Women's March Power to the Polls event in Las Vegas. All these posters are sold out or nearly sold out. It's great to harness positive fan energy for good!

Last year, I surprised Conscious Alliance by making a record-breaking, food-drive poster for their event supported by String Cheese Incident at Red Rocks in Colorado. We raised a record 5000 lbs. of food for the Oglala Sioux. I'm very proud to be able to make an impact.
You've had the opportunity to travel pretty extensively with your work including trips to Greece. What is it like for you as an artist to experience the places where many of the mythological stories you draw inspiration from originate?
It's very inspiring! Just one short story here: I finished my show in Paris at l'Oeil Ouvert, and it was really a big success.

When I flew to France, I went first to Marseille to meet with my friends there. I had dinner with my friend Korine Gibaudan who is the manager for artist Pakito Bolino the owner of Le Dernier Cri, a very prolific and legendary screen print studio in France. Pakito and Korine had spent the year (2016-2017) being savagely attacked and provoked by the political extreme right, attracting speeches and inventive from Marine Le Pen herself, and in the process a provocative obscenity charge to answer in court, for "obscene art." To be perfectly honest, this charge was meant for Marine Le Pen to gain voters and publicity alone. Korine was quite exhausted by the attacks, and rented a house on the island of Paros in Greece. She invited me to share it. The only problem was that she was going there the same day I flew home — I was proofing my book "Helikon: The Muses of Chuck Sperry" with my friend and book designer Shaun Roberts.

When the show ended, the gallery owner, Julien Fayet pulled out his credit card and said, "Chuck you are going to Greece. You must. I'm changing your ticket, buying you a flight to Athens, and I'm paying for it!" He argued that I had to go, as my show was full of muses and it naturally followed that I must then go to Greece, source of inspiration. The flight adjustment wasn't too expensive, but I would not have done so, if he hadn't taken the reigns.

I called Shaun and told him that we would have to proof the book via FaceTime call when I got to Greece.

There is something magical about the long boat trip from the ancient harbor of Pireus to Paros in the Cyclades Archepelago, named after the cicada. True fact: cicadas actually flew across the wide sea, landed on the boat deck near me, and chirped in time with a musician playing the bouzouki. By the time I arrived it was midnight. Parikia harbor drifted on a sea of black and grew nearer. I found the figure of my friend waiting for me in the light crowd. We hopped in her tiny euro car and zipped up to the house.

Next morning I made my FaceTime call to Shaun, on a hill topped with the ruins of the Temple of Apollo, to proof my book devoted to the muses. We were pretty damned amused at the symbolism of all that for sure! But I have to admit that I brought flowers to Apollo later that day, and left them for him on a simple stone altar in the ruins.
You have some of the most dedicated fans and collectors I've ever experienced in my career in the arts. Collecting Sperry prints is a bit of a sport with this tight knit community. I can imagine it feels pretty cool having people respond that way to your artwork.
Woot! It's super cool! I feel very lucky to have such awesome fans! I'm grateful every day! I'm especially grateful for the freedom to express myself that my fans afford me. Thanks all!
What contemporary artists are you a big fan of and collect?
I'm a huge Isabel Samaras fan! I was so stoked to acquire "Cloud Nine" — her mannerist pop portrait of Batman and Cat Lady kissing in the clouds. I brought it home to Nancy and we both swooned and stared at it for weeks and months. It's in my drawing studio at home brightening my life every single day!

I have two Brett Amory paintings; one from the Waiting Series, and one of his new abstract meditations. Brett is such a cool cat! And so damned gooooood! We met initially at the Free University of San Francisco, and I knew right away, he has a big heart, sharp mind and the skills to show the world.

I couldn't resist Scott Scheidly's fabulous mauve Fidel Castro with pansy collar insignias at Art Basel in 2017. I used to live in South Florida, and I know how provocative Fidel Castro is there. I sort of snort-laughed when I saw Scott's exceptionally well-painted portrait of Castro and thought, "god love Scott! I must. have. this!"

Joel Daniel Phillips had this amazing installation at SF Art Market, graphite pieces that were inspired by found objects, all tied to his really intensely humanistic exploration of Hunter's Point in San Francisco. There was this shoe, and Joel's drawing of that shoe, and they were presented together, subject and artwork, and the whole thing just dripped with so much human life and compassion. I needed that shoe!
I'm lucky to work with such a great photographer, Shaun Roberts, in collaboration on my book projects and documentation. I love Shaun's vision. I have one of his framed pieces of my paint splattered chair, something I live with every day, but his eye transforms the way I see.
Anything else to add?
This year has been so inspiring! I'm so excited for my Spoke Art solo, Heaven of Many a Tangled Hue. I'm super excited for my first museum solo, "All Access" at the Fort Wayne Museum of Art in September.

I wouldn't change a thing about my life, my friends, and art, and my career arch if you like, and the timing of it all. My life's tempo has this repeating circle like a great musical improvisation. And every time we come to the top it just gets richer, fuller and more meaningful. I'm just trying to get it all down on paper!
"A Heaven of Many a Tangled Hue" opens Saturday, April 7th with an opening reception from 4 to 9pm at Spoke Art San Francisco. The show runs until April 28th. Photos by Shaun Roberts.