Juxtapoz
Best of 2014: Clarity Haynes' "The Breast Portrait Project
December 12, 2014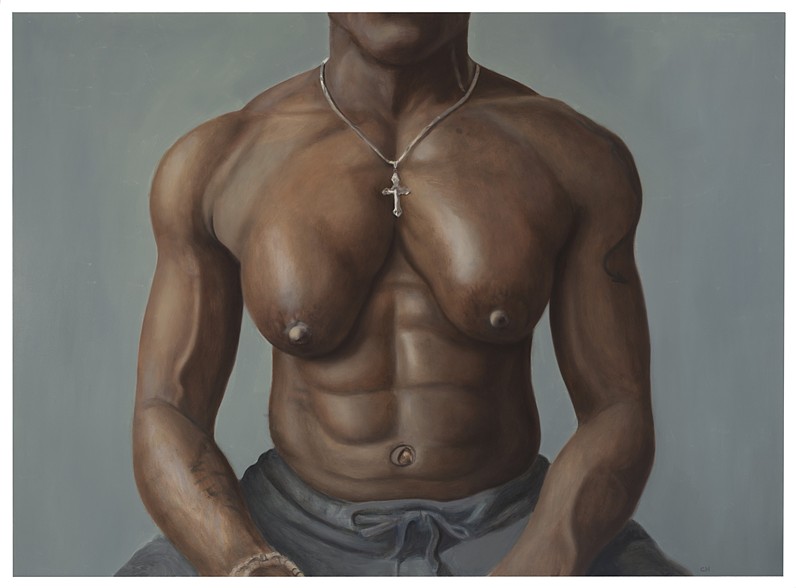 Originally published on April 30th, 2014
The large-scale paintings I am currenty working on come out of a decade-and-a-half long feminist art project. The Breast Portrait Project exists in the intersections of art and social intervention, merging drawing, painting, artist book production, documentary photography, and writing. My work is a subversion of traditional purposes of portraiture, with a focus on making discoveries and facilitating transformation in my subjects, myself, and in communities of viewers.
The Breast Portrait Journals are artist books documenting the project with photographs of subjects accompanied by their writings. The five original journals span fifteen years and several historical and cultural contexts, and contain the spontaneous handwritten entries of over 500 participants from 1998 to the present.
Historically, the painted portrait signifies prestige, beauty and social power. Our commonly recognized self - our "mask" of identity - is the face. Focusing exclusively on the torso shines a light on a part of the individual that is usually hidden. Each torso bears traces of unique personal experience: tattoos, childbirth, aging, stretch marks, synthetic hormones, and surgical interventions. The time and attention inherent in the process of drawing and painting intrinsically states, "this body is beautiful and worthy." Art historian Beth Gersh-Nesic has said of my work, "Clarity Haynes paints and draws the invisible: ordinary women whose bodies do not conform to the classical ideal or our contemporary celebrity culture."
I feel a kinship with contemporary painters working in a realist tradition, such as Catherine Murphy, Ellen Altfest, and Josephine Halvorson. In the past few years, portraits have become increasingly detailed and labor-intensive, and I work from life when possible.
My work also comes out of the feminist and queer art movements. For example, in the 1970s, Joan Semmel was interested in interrupting the male gaze and creating nudes that reflected her point of view. More recently, Catherine Opie's work presents images of non-normative bodies and queer subjectivity.
My project began in the late 1990s, when as a young, queer female artist I used self-portraiture to examine and heal my relationship with my body and identity. It soon expanded to include others. For several years I offered portraits on commission at women's and lesbian festivals and events.
Over the years I have left and returned to this project several times; I never expected it to last as long as it has. The Breast Portrait Journals are now a book project. The work has surprised me with its longevity and evolution, and I continue to be deeply engaged with the subject matter and the people I work with.
For more information about Clarity Haynes, visit clarityhaynes.com