Juxtapoz
Chris Johanson "Within The River of Time Is My Mind" @ MOCA Pacific Design Center, Los Angeles
Jun 29, 2013 - Sep 22, 2013MOCA, Los Angeles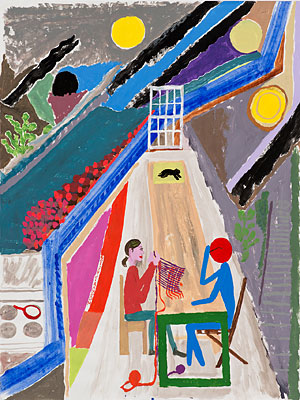 The Museum of Contemporary Art presents Within The River of Time Is My Mind, a new exhibition by Los Angeles-based artist Chris Johanson on view at MOCA Pacific Design Center from June 29 through September 22, 2013. Organized by guest curator Andrew Berardini, the exhibition features new paintings, sculpture, and found wood site-specific installation. Known for his figurative work that features text, the exhibition will highlight the kaleidoscopic color and angles that Johanson employs.
Johanson's works often feel home-made and human-scaled, drawn, painted, and crafted with an economy that is neither naive nor necessarily simple, though they may often appear so. There is an underlying emotional complexity that translates into the distinct spirit of his wavering brushstrokes and euphoric abstractions. Johanson's roughly hewn and self-schooled figures communicate ideas that are at once deeply philosophical and quotidian.
Johanson's visions transmit a distinctly Californian experience that includes a mélange of shamans and charlatans, working stiffs and aimless drifters. Some of Johanson's words and compositions feel like heirlooms from a long and ragtag coastal tradition of poets, artists, and musicians: Wallace Berman's mystical photocopies and seminal Semina culture; the poem-paintings of Kenneth Patchen; the beaming peacenik posters of Sister Corita Kent; the blurring between art and life embodied by Allan Kaprow (the subject of a 2008 MOCA retrospective); all filtered through the dirty socks of punk and the wondrous messy freedom that tumbled out of that. In the work of Chris Johanson, the ordinary and the ecstatic coalesce with candor and grace.