Juxtapoz
CHIHO AOSHIMA "REBIRTH OF THE WORLD" @ Seattle Asian Art Museum
May 02, 2015 - Oct 04, 2015Seattle Art Museum, Seattle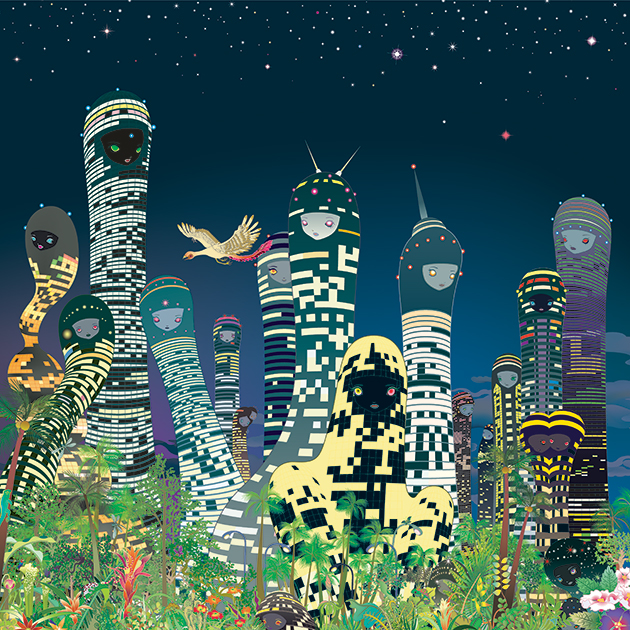 Welcome to the fantastic world of Chiho Aoshima (who is part of the great group of Japanese artists under the Kaikai Kiki family). This might just be our future. Who's to say that as technology advances, as natural disasters rise, as the organic world blends with the manmade, that smartphones will not become smart buildings? That skyscrapers will not stand up and walk among mountains? That ghosts and spirits don't already float through our world?
Aoshima's work has undeniably dark images but a positive attitude. There's no evidence of fear in her art. Her murals, digital prints, and drawings don't want to escape from society or from the future. Instead, she seems to embrace all possibilities, including a world where the skeletons and ghosts reside alongside the rest of us.
Her work may look like a surreal fantasy. But ask Aoshima, and she'll tell you she's showing us the reality that our beautifully chaotic world may be hurtling toward.
When asked about her inspiration, Aoshima answered, "The evolution of human civilization is great; humankind thinks nature precious, but it is difficult for humankind and nature to coexist. I represented these two souls that cannot understand each other through the images of buildings and mountains."
This is the future—and she's prepared to live in it.
On at the Seattle Asian Art Museum from May 2—October 4, 2015.