Juxtapoz
Cheech Marin: The Passion of a Master Collector
May 13, 2015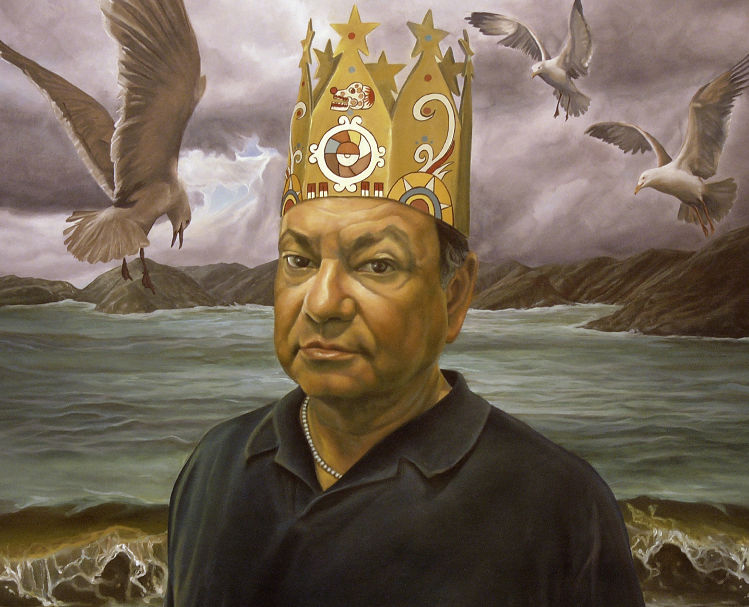 The following is an excerpt from the June, 2015 issue of Juxtapoz Magazine, on sale now. Subscribe and save more than half off the newstand price.
"The colors of Cheech Marin are vibrant and multifaceted. Popularly recognized as half of the legendary comic duo Cheech and Chong, what many people don't know is that Cheech is arguably the most important collector of Chicano art in the United States, if not the world. He is also a popular voice-over artist, children's book author, film and television star, and, not incidentally, two-time champion of Celebrity Jeopardy.

Over the past 30 years, Cheech has put together an incredible collection of paintings from the Chicano art movement. A large portion of his collection formed the core of his blockbuster exhibition, Chicano Visions: American Painters on the Verge, which broke attendance records during its groundbreaking 12-city tour to major art museums across the U.S. Some of these paintings were also shown in Selections from the Cheech Marin Collection at LACMA in 2008. An exhibition of small paintings called Chicanitas is currently touring venues in the West. Its next stop is the Vincent Price Art Museum in Los Angeles, opening June 13. The day I met up with Cheech for this interview, we decided to take a drive, talk about art, and visit a few artists' studios along the way." —Gregg Gibbs
----
Gregg Gibbs: Were you, indeed, "Born in East L.A.?"
Cheech Marin: Actually, I was born in South Central Los Angeles. It was all black, with a few Mexicans. Then, when I was 10, we moved to Granada Hills in the San Fernando Valley. So one day everybody was black, and the next day everybody was white.

When did your interest in art begin, and how did you decide to make that your pursuit?
Early in my youth, I was assigned to learn about art from my cousins. We were fairly bright kids, each of us had an expertise, and I got assigned art. So I went to the library, learned about art and brought it back to the group. And everyone was impressed because we all wanted to be sophisticated, even though we were blue-collar Chicano kids.
For clarification, what is the true definition of Chicano?
Depends on which Chicano you ask because everybody has a different definition of what Chicano is. Technically, a Chicano is an American, born in this country, who has a defiant attitude. The derivation of it is… it is an insult from Mexicans to Mexican-Americans. The concept being that Mexicanos in the U.S. were no longer Mexicans. They were something less. They were smaller, they were "chicos." They were Chicanos.

Then why adopt the phrase if it's possibly an insult?
My father, who's going to be 93 this year, always called himself a Chicano. At first it started as an insult, and then it was, "Well, that is who we are." Acceptance 100 years ago took the sting out of the insult. So when the Chicano political movement took place in the late '60s, they adopted that term as a badge of honor.

How did you set out to put together a collection of Chicano art?
In the mid-'80s, when I got enough money to actually buy art, I discovered the Chicano painters when I went to a show at Robert Berman's gallery in Santa Monica. I said to myself, "I know this." It was like the first time you hear the Beatles. I know that music because it was based on the foundation of rock 'n' roll. That was the Chicano paintings to me, because they were based on everything classical that I knew. Being a collector, which is, like I said, really just an addict, I started amassing them. It was the perfect storm. I was somebody who knew what it was, I had the money to buy it, and I had the celebrity that could draw attention to it. The lucky part is that all the masterpieces of Chicano art were readily available. I look at it like, if you had a chance to buy Impressionists during the day, would you do it? Ah, yeah.
Read the full interview in the June, 2015 issue of Juxtapoz Magazine!

De Colores de Cheech, a short film directed by Gregg Gibbs and produced by Maura McCoy, will premiere at Docfest SF 2015 on June 13, presented by "Juxtapoz Presents: Art Shorts."