Juxtapoz
"Alignment" A Solo Exhibition by Chad Muska @ Werkartz, LA
April 24, 2014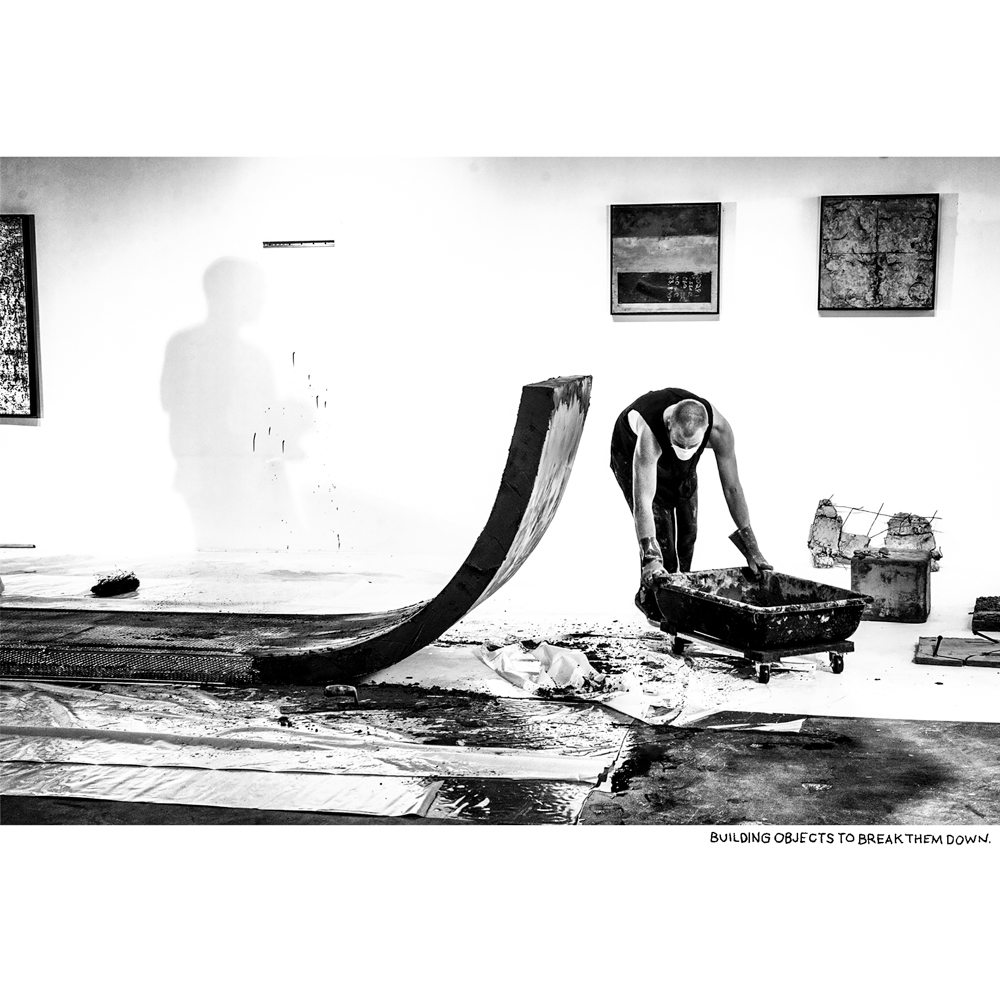 On Friday April 25th, pro-skateboarder and artist Chad Muska will open up his private studio space to the public for the first time, with a solo art exhibition titled Alignment. Muska has been working out of Werkärtz Studio for the past year, building and experimenting in unconventional art materials and applying them to both hanging wall pieces, and sculptures. Muska has decided to open up his personal studio he transformed into a gallery atmosphere and invite the public in to see the large level art installation he has created. While the opening is one night only, Friday, April 25th, studio visits by appointment are encouraged throughout the week of April 21st, leading up to the show.
Muska's artwork uses his immediate surroundings, available materials and the relationship between man and nature as inspiration and mediums of his new work. He is fearless and intuitive in his use of materials now being drawn to industrial elements like concrete, resin, and steel, all materials he has a strong connection with because of his long career in skateboarding and past artwork he has produced. "Without these mediums, my career in skateboarding would not be possible and there would be no walls to create public displays of art on. I have tried my best to create a new identity in my art separate from the public persona of a professional skateboarder that I've had for all these years, but that DNA is embedded in me, and remains prevalent in my artwork." says Muska about his work.
Although at first glance Muska's most current body of work looks nothing like the street art or the graffiti he has become widely recognized for doing, the details in the artwork show those direct connections. There has been a long progression of repetition in Muska's previous work, that lead to the destruction of the obvious imagery he had been using and brought him to the patterns and textures that are dominant in his current artwork. Muska feels a strong connection to the anti-imagery pieces he is creating, as they are a more open to interpretation to the viewer, and offer boundless longevity.
Muska has exhibited in numerous group shows and his most recent solo show Transitions exhibited at New Image Art gallery in June 2013. This exhibition picks up where Transitions left off by exploring "the continuous use of concrete by blending together both elements of nature and synthetic materials into abstract patterns and bold structures."
Alignment: A Solo Exhibition by Chad Muska
Friday, April 25th, 2014
7:00pm – 11:00pm

246 North Avenue 25
Los Angeles, CA

RSVP: emgpr.com/ChadMuska