Juxtapoz
Camille Rose Garcia "Down the Rabbit Hole" @ Walt Disney Family Museum, SF
May 09, 2013 - Nov 03, 2013Walt Disney Family Museum, San Francisco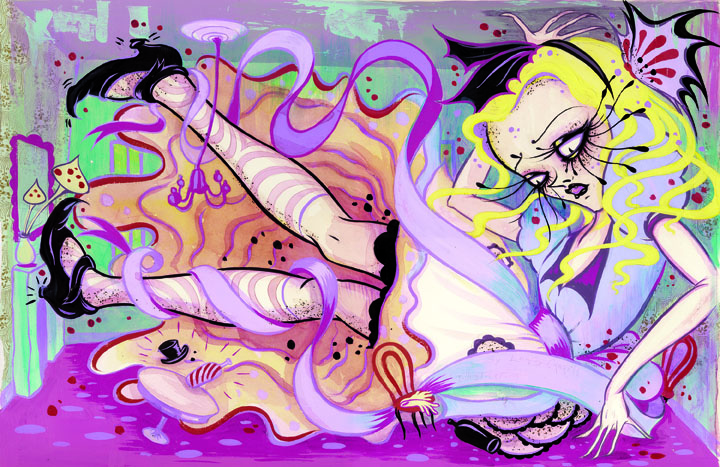 The Walt Disney Family Museum is pleased to present the exhibition Camille Rose Garcia: Down the Rabbit Hole (hopefully, you were lucky enough to find the special CRG Juxtapoz cover this month. If not, you can get it in our webstore). On view from May 9 to November 3, 2013, the exhibition features some 40 works by Garcia alongside ten Alice in Wonderland concept paintings by Disney artist Mary Blair from the Museum's collection. Organized by guest curator Tere Romo, the exhibition celebrates not only Garcia and Blair's artistry across decades and artistic styles, but also the power of art to draw us into magical worlds that spark engagement and inspiration.

Since its publication in 1865, Lewis Carroll's Alice's Adventures in Wonderland has been re-interpreted visually in a wide-range of artistic styles and media, including as an animated Walt Disney film in 1951. Over half a century later, Garcia has updated the enduring classic with her distinctive illustrations that capture a young girl's surreal adventures after following a rabbit down a hole. In this exhibition of Garcia's book illustrations, Alice's encounters with the March Rabbit, Mad Hatter and Red Queen are quirky renditions of the main characters set against colorful backdrops. With her conscious disregard for perspective or scale in her compositions, Garcia creates a fresh and contemporary depiction of the dreamlike story. Her illustrations not only draw from a Goth sensibility, but also the thriving "low-brow art" movement in Los Angeles and its references to classic cartoons, 60's TV sitcoms, rock music, and comic books. However, in keeping with Lewis's intended audience, the illustrations retain the animation quality of the Disney film that continues to appeal to all generations.
Credited with introducing modern art to the Disney studio, Mary Blair's work was very adventuresome for the time period (1940s and 50s) in her use of asymmetrical shapes to illustrating animals that created more dynamism and visually compelling scenes. Of the many films she contributed to, it was Alice in Wonderland that bears her influence as an artist in its bright colors and ability to create imagery that was all-encompassing, with the ability to visually entice audiences into entering magical worlds.
"Blair and Garcia may have half a century separating them, but they both were carving out new territory. Blair was one of the few women in the animation business; her position a credit to Disney's foresight. Garcia's aesthetics have pushed illustration further into the art world and brought it to the attention of a new, younger generation," says Romo.
As Garcia stated in an interview with the Los Angeles Times in 2010, "The original John Tenniel illustrations were always some of my favorites and those were definitely lodged in my head. I wanted to stay true to his vision but I'm so influenced by Disney. I loved the backgrounds in their early movies (Snow White and the Seven Dwarfs and Pinocchio) so I watched a lot of those films to try to get more of a color feel. They were all done in the 1930s with watercolor, which has that very classic touch. Using watercolors referred back to the Tenniel work, but I added a little bit of a modern gothic touch as well. That was my vision for the work."
"I always liked the themes of Alice and playing with the idea of landscape being somewhat surreal, cartoonish, not totally based in reality. The story lends itself to the kind of work I do anyway. The sort of shifting of realities," Garcia continued.

Camille Rose Garcia & Mary Blair
Down the Rabbit Hole
May 9—November 3, 2013
Walt Disney Family Museum
San Francisco, CA