Juxtapoz
Cai Guo-qiang: The Ninth Wave
July 26, 2014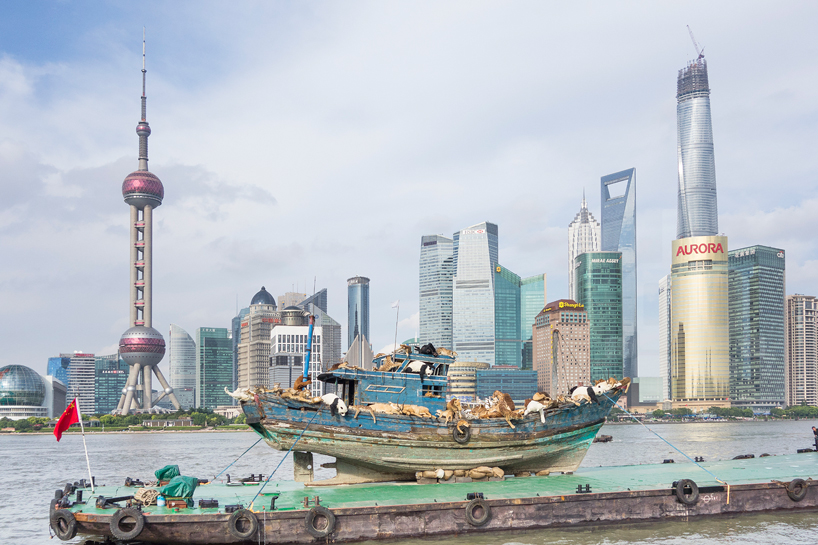 Cai Guo Giang is opening a show through The Power Station of Art in Shanghai, titled The Ninth Wave from August 8th to October 26th. A monumental and impactful installation of a fishing boat from the artist's hometown of Quanzhou carrying 99 fabricated animals down the Huangpu River. Tigers, pandas, camels and apes cover the tiers of the worn ship, appearing weathered and dreary as hunched figures in fatigue. Guo Qiang took visual inspiration from Russian painter Ivan Aivazovsky's 1850 painting, which illustrates survivors of a terrible shipwreck, hanging on for dear life with overt expressions of weary souls who battled the woes of nature and its unforgiveable forces, blatantly communicating human helplessness in the wake of mother earth's blows.
Thematically expressing Earth's current environmental crisis, Cai Guo Qiang strongly references this and more…
'Last year, high levels of smong in the air in China led to the horrific incident of 16,000 dead pigs found floating down the Huangup River, proving that ecological concerns in the region, as well as globally, have reached a critical level. With a focus on human interaction with nature, Guo-giang's exhibit explores the challenges posed by the environment, and references a symbol found in traditional Chinese aesthetics and philosophy: mankind's longing to return to a more primitive setting and restore faith in a spiritual homeland'.
Photos by JJY photo, courtesy of cai studio
via Design Boom