Juxtapoz
M-City, Gerry Judah & More @ Burn Yard Live in Budapest, Hungary
July 30, 2013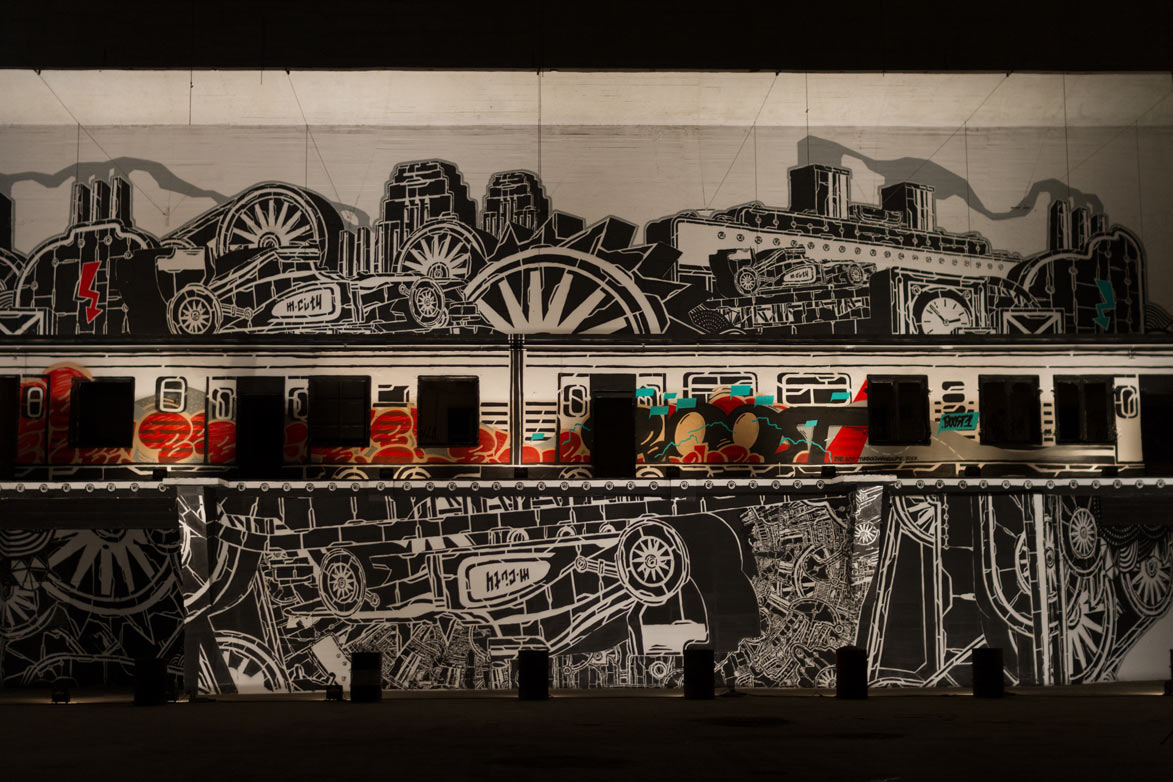 This past week we were in Budapest, Hungary for Burn Yard Live, an event that featured collaborations between thirteen street artists from across the globe, along with a unique skate ramp/sculpture designed by Gerry Judah and pro-skater Rune Glifberg. Led by Polish artist M-City, the interior space of a former industrial building was transformed into a collection of murals, grafitti an digital projections, serving as a colorful backdrop for Gerry Judah's skate sculpture and a live celebration that featured Avicii, other DJs, Rune Glifberg and F1 drivers.
The 14 ton skate-able sculpture by Gerry Judah, and artist whose impressive work we've shown before, is a 14-ton structure and the result of a vision by Judah and skate-ramp dreams of Gilberg balanced in a way that produced an impressive sculture with the practical needs for actually being skate-able.
We were lucky enough to arrive early and catch the artists making the final touches to their work. Hungarian artist Bázis, along with fellow Romanian Suflo brought some color to discarded and abandoned vehicles. Walls were painted by Sergey and Kirill from Russia's Zuk Club as well as French artists 2Shy and Faker, while the duo Stylus blended street art and projection on a side wall.
The Romanian duo Saddo + Aitch also painted a wonderful mural to the left of the stage.
Situated on stage, as a backdrop for the Djs was a repurposed train designed by Dilk. The train, a 74-year-old relic was transported from a train graveyard behind the Hungarian Railway Museum. In order to be placed in the building, the train had to be gutted, cut up, and put back together again. A feat accomplished by Hugo Farmer and crew.
M-City's main wall was a collaboration with his fellow Polish street artist Dezmond and featured his signature stencils and industrial style blended with Dezmond's unique syle of studying architecture.
Stay tuned for a video series featuring behind-the scenes video from the process leading up to Burn Yard!