Books
The Figurative Artist's Handbook
April 13, 2017
Rob Zeller's debut book on drawing and painting the human figure offers one of the most ambitious and definitive takes on the subject in decades. Simultaneously classical and contemporary in scope, this comprehensive guide contains roughly 300 images, how-to lessons in figure drawing, an overview of figurative art movements of the past as well as profiles of some of the greatest practitioners working today. Art luminaries such as John Currin, Andrew Wyeth and Lucian Freud, are featured with many younger up-and-coming artists.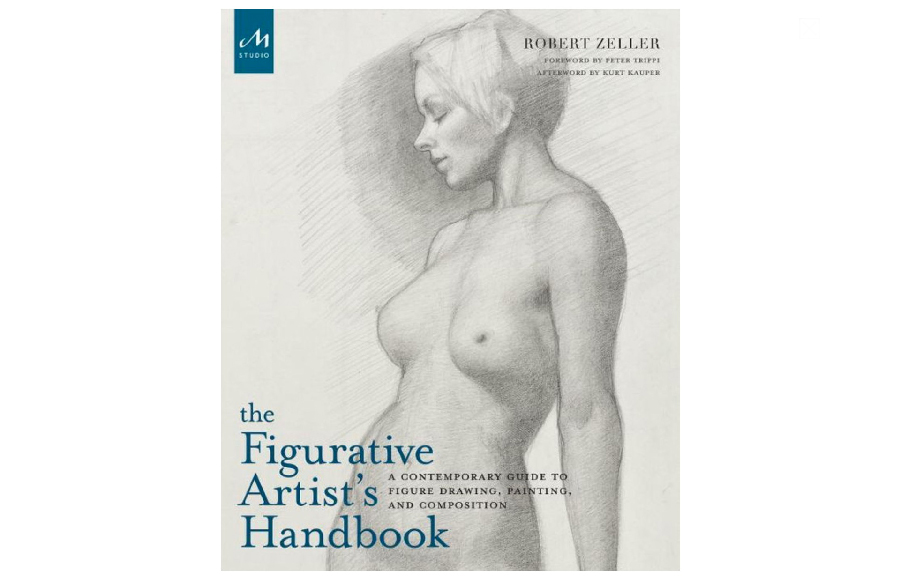 Zeller is the director and founder of The Teaching Studios of Art located on Long Island, a school devoted to traditional drawing and painting techniques for all ages and levels of experience. Zeller cleverly mines art history for the best approaches to use in instructing his students.
The first part of the book showcases Zeller's unique take on the history of figurative art. Here he points out how the narrative content of most figurative movements is shaped by the patrons. For example, Zeller points out how French Neo-Classicism serviced the appearance of "the new French Republic" and only superficially resembled the original Greek version. Likewise, Golden Age illustrators like Maxfield Parish and JC Leyendecker made works celebrating the triumph of capitalism, with narratives controlled by Madison Avenue advertising executives.
Around the same time, Edward Hopper, George Bellows, John Sloan and other painters in the Ashcan school made compositions that celebrated American culture. But then within a few years, figuration nearly vanished as Modernism rose to prominence. Zeller then points out how the 1980's "bad boys" of figurative art (Eric Fischl and David Salle) resurrected these American narratives and gave greater exposure to suggestive dark psychology. These artists have helped pave the way for the wide spread figurative revival that we are experiencing today.
The handbook then launches into sections on distinct methods for constructing the human figure on a two dimensional surface. Zeller combines three approaches: mannerist gesture drawing from the Italian Renaissance, the smooth, modeling refinements of 18th and 19th century ateliers, as well as the architectural, structural approach from the last century. In these how-to sections, Zeller uses examples of his own work but also shares the book's pages with some of the greatest contemporary masters who bring the figurative tradition forward into a new era.
In addition to those on technique, there is a chapter that allows us to peek into his contemporary's sketchbooks, the fertile grounds in which they cultivate a unique voice and vision. And finally in the last section, he gives a tour of the working processes of some of the greatest figurative artists practicing today. These insider views are accompanied by concise biographies and assessments of their artistic contributions. In these mini features, process photos reveal how each artist develops concepts from preliminary sketches to finished pieces.
The books author, Zeller, is also a working artist in midst of the very figurative art world he writing about. He lives and works amongst a community of figurative artists in the East Williamsburg neighborhood of Brooklyn. A block-wide fortress of warehouse has become a sanctuary for classically oriented figurative painters, several of the building's occupants are in the book, including Maria Kreyn, Jason Yarmosky, and Adam Miller. In some regards, this book places current figurative movements into the larger context of art history.
Observing an evolutionary time like this, leads one to wonder, now that we are in a period where there is a revival of figurative work, what narratives will shine through with time as carrying the true zeitgeist of our generation.
The Figurative Artist's Handbook can be purchased online here, and is available at booksellers both nationally and internationally, anywhere English language books are sold. More information on Rob Zeller and his work can be found on his website and that of his school, The Teaching Studios of Art.
There will be an exhibition based on The Figurative Artist's Handbook at Booth Gallery, NYC in November 2017.
—David Molesky