Juxtapoz
Blek le Rat "Ignorance is Bliss" @ Jonathan LeVine Gallery, NYC
Sep 07, 2013 - Oct 05, 2013Jonathan LeVine Gallery, New York City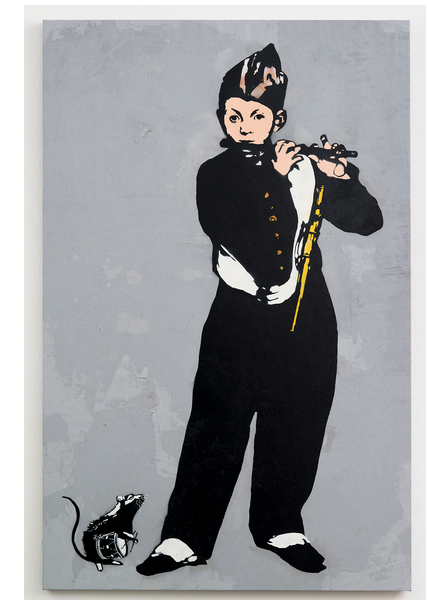 Jonathan LeVine Gallery is pleased to present Ignorance is Bliss, a solo exhibition of new works by celebrated French stencil pioneer Blek le Rat in what will be his second solo exhibition at the gallery and his largest body of work, to date. In conjunction with the exhibition, the gallery will be releasing a new print edition and the artist will be creating a public mural in New York City.
Ignorance is Bliss features a series of works on canvas as well as one bronze, marking the first time the artist has worked in sculpture. The subject matter for the bronze—Michaelangelo's David, holding a rifle—is based on a stencil that Blek le Rat developed years ago which he has placed on the streets of cities all over the world. The sculpture contains a small rat by David's feet—this iconic rat is found throughout the artist's work, not only in this exhibition but across his entire oeuvre, as well.
Blek le Rat is recognized as having influenced numerous contemporary artists working today.
"Every time I think I've painted something slightly original, I find out that Blek le Rat has done it as well, only twenty years earlier." — Banksy, 2005
Ignorance Is Bliss
Blek Le Rat
Through October 5, 2013
Jonathan LeVine Gallery, NYC