Juxtapoz
Bernard Piffaretti @ Cherry and Martin, LA
January 14, 2013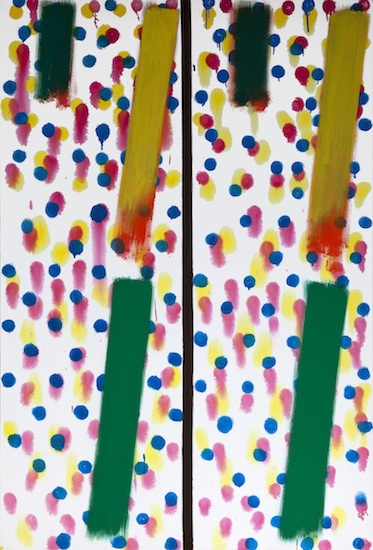 Among the many shows that opened this weekend in Culver City, Bernard Piffaretti's paintings stuck with us. The playfully bright and energetic abstractions abide by a basic bisected compositional structure, with respective variations in each canvas. The two reflected halves of each frame are comprised of mirroring forms, yet they are not perfectly so. Variations in obscured strokes and underpainting peak out through the nearly opaque geometries that ultimately create the identical halves, but it is this hint to the process and decision making that sets them slightly away from perfect duplications. They remain sketchy and unfinished in places, and as a result, do not exist explicitly as a picture, but a thought on the making of the picture.  The press release explains:
"By vertically dividing the canvas into two equal halves creating the right-side as the original and the left-side its copy, Piffaretti has shaped his oeuvre into a multi-perplexing paradox that runs the gamut of painting's canon while forming the quintessential Duchampian question to the audience. The rigor and restraints of Bernard Piffaretti's practice is riddled with the interruption, or pause, from its initiating mark—the formal constant of the painted-vertical line—that equally connects and separates the whole of the canvas. The paintings' conception prompts a metaphorical plurality to the viewer on the creation of the pictorial image, the role of thinking in form, and the questions of negation and reaffirmation of the act of painting through the systematic role of copying to once more reveal what was already known. Unlike many of his contemporaries relaying on the power of the mechanical reproductive image, and the objective truth as presented in the photograph, Piffaretti posits himself into the endless variation of form as a traditional painter, acknowledging his strong conceptual threading, the thoughts within his paintings, and their relationship to space and time bearing the weight of the artist's infinite dualities."
read and see more at 
Cherry and Martin
.