Juxtapoz
Barbara Kruger: Belief+Doubt @ Smithsonian's Hirshhorn Museum, Washington DC
August 06, 2012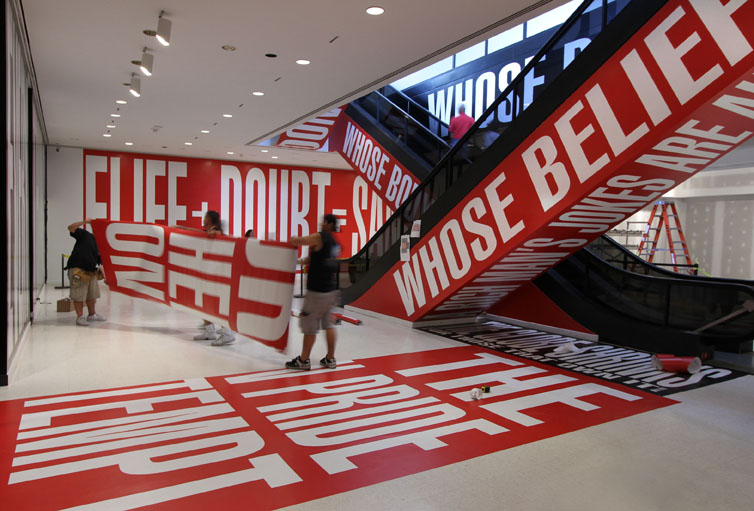 Beginning on August 20, 2012, visitors to the
Smithsonian's Hirshhorn Museum in Washington, DC
can experience the transformative installation by influential and renowned artist (and November 2010 cover artist)
Barbara Kruger
. "Belief+Doubt" covers the lower-level lobby entry to the museum bookstore, about 6,700 square feet of surface—including walls, floor and escalator sides—covered in text-printed vinyl, surrounding viewers with lettering up to 12 feet high in a high-contrast color scheme that has become Kruger's custom of red, white and black.
According to the museum, "Belief+Doubt" speaks to the social relations and networks of power that define daily life. At a time when the value of certitude is taken for granted,
Kruger
says she is "interested in introducing doubt." Large swaths of the floor are covered in open-ended questions ("WHO IS BEYOND THE LAW? WHO IS FREE TO CHOOSE? WHO SPEAKS? WHO IS SILENT?"), while the area facing the bookstore explores desire and consumption ("YOU WANT IT. YOU BUY IT. YOU FORGET IT.").
"It's a tremendous opportunity," said Kruger, noting the particular resonance these themes have in Washington, a city preoccupied with power.
"Belief+Doubt" will remain on view through 2014, the year the Hirshhorn celebrates its 40th anniversary. Like the recent presentation of Doug Aitken's "Song 1" on the façade of the museum, Kruger's installation is part of an initiative to activate new sites in and around the Hirshhorn. "Throughout the museum, we are emphasizing the artist's voice," said Richard Koshalek, director of the museum. "In addition, we are committed to curating all of the Hirshhorn's public areas, not only those already thought of as exhibition spaces. Barbara Kruger's work interrogates the way power and money flow in contemporary society. Having her intervene in a part of the building that is at once a social site and a place of commerce amplifies both her concerns and those of the Hirshhorn."
Assistant Curator Melissa Ho, coordinator of the project, said, "Kruger's command of architectural space and her ability to engage an audience amidst busy, lived experience make her the ideal artist to work with this site. 'Belief+Doubt' takes advantage of the constant movement through the lobby. As visitors descend the escalators, they are surrounded by language that beckons from all sides but only fully reveals itself as they pace and circulate through the entire space."
All images:
Belief+Doubt

Barbara Kruger, 
Belief+Doubt
, 2012.
©Barbara Kruger.
Photos: Cathy Carver