Back Talk: A Conversation with Kelly Allen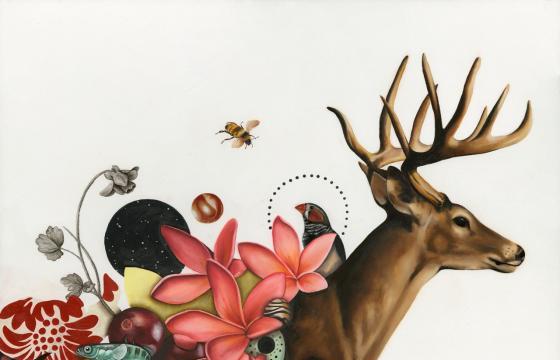 Kelly Allen's new body of work "Hidden Seeking" (which opens at Thinkspace Gallery this Saturday, July 7) continues the artist's investigation of graphic symbolism and popular cultural imagery, in collision with the natural world. Deriving her inspiration from variegated sources, her work is both illustrative and symbolically elusive. The artist's selective use, and omission, of imagery is in keeping with her highly refined and recognizable aesthetic.
A thematic undercurrent of contemporary mysticism seems to imbue the tone and composition of her work, as it borders on the magical. Everything from tigers and birds, to deer and foxes, to botanicals and bees, coexist with graphics and decorative patterning. Allen takes representational fragments from nature and life, and constructs elaborate and stylized compositions, as reliant on her selective use of negative space as they are on their dizzying compendium of visual information. The work is dynamic, kinetic, dense and chromatically vibrant: an unparalleled visual syncopation of graphic and natural intrigues.
As the title of this show suggests, Allen's work is more about the intuitive process of aesthetic seeking, and the adventure of unlikely combinations of images and references, rather than the resolution of full disclosures. The work is dialogic in that meaning is derived from the collision and collusion of polarities, and resides in suggestion rather than in imperatives. By transplanting and juxtaposing seemingly unrelated images and content, her work becomes entirely fantastical and "other". Allen has created a symbolic cosmology that exists entirely unto itself, and in its own realm, and yet uses the material of the recognizable world to weave elaborate dreamscapes. Her revelations are subtle and discrete, and embedded in complex assemblies of visual languages. Her synthesis of illustration, graphic design, and painterly realism, combined with her collage like compositions and graphic designations of space, speaks to an eclectic metabolization of visual vocabularies and influences. The end result is one of beautiful interrogation and exploration, as the fabric and patchwork of Allen's juxtapositions compel us to embark on a journey of aesthetic mysticism with possibilities that resist the confines of the finite.
1. Where are you living and working right now?-
East Oakland- The Dimond District. Yes, I know, you don't know where that is. That's okay. I have a deck, a stream, a garden, and multiple rooms in my apartment (now that I'm not living in the Mission anymore.) I'll see you in SF on the weekends.
2. Least favorite part of making art? And your favorite part...
Sitting still for so long. Finishing new work, getting it out of the studio and into the public.


3. Favorite medium to work with?
Hard to choose one. I love oil, gouache, and colored pencil all the same.
4. Last art show / exhibition you saw:
Barry McGee at Prism Gallery in LA


5. If you could collaborate with one artist, living or dead, who would it be?
Robert Rauschenberg.
6. Artist(s) that inspire you?
Nick Cave.
7. What time of day are you most productive?
2pm-10pm
8. Currently listening to?
Os Mutantes.
9. How do you take your coffee?
I've been off of coffee for about a month now, but because we're just pretending, I'll take a double cappuccino with a scoop of brown sugar.
10. Last meal?
A bowl of Corn Chex with strawberries, bananas, raisins, and almond milk-YUM!!


11. Last three places you have lived?
San Francisco, CA
Grand Rapids, Michigan
Arcata, CA
12. Last time you traveled? To where?
Just went to LA a couple of weeks ago.
13. What website(s) do you visit most often?
Beautiful Decay.com
This American Life.org
Radiolab.org


14. Website you're most ashamed that you visit daily?
Uh, I don't really visit websites every day. I'm more into finding flowering bushes in my neighborhood and staring at bees right now.
15. A quote that has stuck with you?
Don't sweat the petty stuff, and don't pet the sweaty stuff.
16. The most trivial thing you know?
Humans have the same amount of hair follicles as monkeys do.
17. High school GPA?
3.85


18. Least artistic award you've received?
Watermelon seed-spitting contest. Back in the day when watermelons had seeds.
19. Oddest job you've done to make rent?
I cleaned hotel rooms for a summer. I broke down one day in one of the bathrooms after it looked like someone had given themselves a haircut in their nether-regions. I am not down with OPP.
20. Favorite superhero and why?
The Flying Pig from The Kids in the Hall. Because he entertains people at ATM's and other of life's many line ups.
Kelly Allen
'Hidden Seeking'
Reception with the artist:
Sat., July 7th 5-9PM in our project room
Exhibition on view: July 7th - July 28th
Culver City, California