Back Talk: A Conversation with David Cooley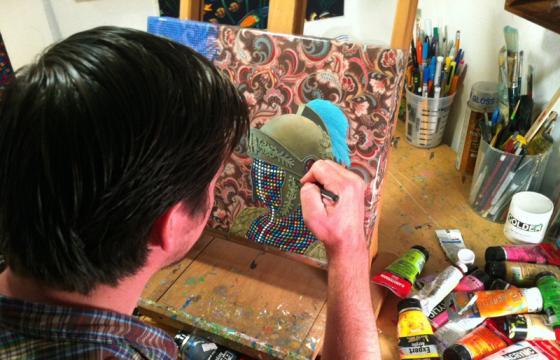 David Cooley is set to open a new series of works at Thinkspace Gallery this Saturday, June 16, with
Dashing In Headlong
. Cooley creates intricate multi layered, multi dimensional mixed media paintings using mostly acrylic, resin, spray paint, pen and fabric. We sat down with a quick conversation on the occasion.
David Cooley is set to open a new series of works at T
hinkspace Gallery this Saturday, June 16
, with
Dashing In Headlong
. Cooley was born in North Hollywood in 1978, and currently lives in Santa Barbara, California. He's been creating art ever since he was a youngster. Now he's creating intricate multi layered, multi dimensional mixed media paintings using mostly acrylic, resin, spray paint, pen and fabric, to achieve an effect in and of his own. He's always been inspired by the idea of creating something that's previously only existed in thought and making something that's tangible, with the intent to have an impact on others, weather it's thought provoking, fun, or just aesthetically pleasing.
1. One reason you make art:
To contribute something beautiful, thought provoking and sometimes funny to the world.
2. The last good movie you saw:
Adaptation
3. Something you've always wanted to do, but have yet to:
Travel more and do a large scale sculpture.
4. Favorite country or city visited:
I guess I'd have say Black Rock City, Nevada


5. A few words that sum up your philosophy on life:
Having a good attitude can take you a long way.
6. Something you want the world to know about you:
I don't actually have OCD although my work might suggest that.
7. Something that annoys or frustrates you about people:
Impatient people who honk their horn at you when you're waiting for someone to cross the crosswalk.
8. Something that concerns you:
Monsanto
9. Artists you admire:
James Jean, Os Gemeos, The Further Collective, Mark Goerner, Esao Andrews, Russ Carter, Salvador Dali, Jimmy Bell.
10. Favorite quote(s):
"Be who you are and say what you feel, because those mind don't matter and those matter don't mind" Dr. Suess
11. The first record or CD you ever bought? The last album you downloaded?
I believe Metallica Master of Puppets, was the first CD I bought. The last album I downloaded was Ratatat's LP4
12. Something you do when you're procrastinating?
Play words with Friends, shoot pool at my local watering hole or do the dishes.
13. What is your most defining characteristic?
I'm really nice and can be very quiet to the point where it's almost creepy.
14. What is your greatest fear?
Losing loved ones.
15. The moment you realized you were an 'artist':
I suppose when I noticed that there were other people that were as excited about my work as I was.
16. Your greatest quality:
Umm...
17. Something you wish you could change or alter about yourself:
My raging caffeine habit.


18. What is the biggest risk you've ever taken and was it worth it?
Not sure if I've taken it yet.
19. Something you wish you had known five years ago:
That I should be growing my own food.
20. What do you hope to accomplish in the next five years of your life?
Create a lot more art.
'Dashing In Headlong'
New work from David Cooley
Reception with the artist:
Sat, June 16th 5-9PM in our project room
Exhibit on view June 16th - June 30th, 2012
Thinkspace Gallery
Culver City, California