Back Talk: A Conversation with Chloe Early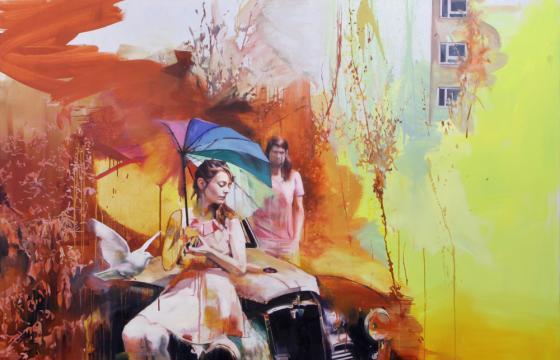 Tonight, November 10, at Corey Helford Gallery in Culver City, London-based fine artist Chloe Early opens a new body of work, entitled Rainbow Ruins. The work is based on a chromatic meditation on the lush contrasts of nature and technology. On the occasion of Early's return to the US, we sat down for a brief conversation before her show opens.
1. Where are you living and working right now?
Living and working in East London.
2. Least favorite part of making art? And your favorite part...
My least favorite part is when a deadline starts to bear down on me. My favorite part, seeing the work coming together, so my least favorite and favorite part tend to coexist at the same time.
3. Favorite medium to work with?
Oil on aluminum.
4. Last art show / exhibition you saw:
Justin Mortimer at Haunch of Venison Gallery in London.
5. If you could collaborate with one artist, living or dead, who would it be?
As I'm going to Mexico soon I'll say Frida Khalo, that would be interesting, we could have flying monkeys.
6. Artist(s) that inspire you?
Lots of painters old and new, Jonathan Wateridge, Caspar David Friedrich, Jenny Saville, Mark Rothko, Botticelli I like photography and people like Ryan Mcginley too, I saw a beautiful movie recently called Beasts of the Southern Wild which is the most inspiring thing I've seen in a while.
7. What time of day are you most productive?
Morning.
8.Currently listening to?
I've become addicted to Lauren Laverne on BBC radio 6 music, she's on from 10 until 1 everyday and plays great eclectic tunes, it suits when I'm busy as I don't have to think abut what I want to listen to and keep changing my mind. She seems to know what I need to get through it.
9. How do you take your coffee?
I don't, I'm a green tea girl!

10. Last meal?
Omelette and salad at a place called A Little of What You Fancy in Dalston.
11. Last three places you have lived?
Fortunately or unfortunately (I can't decide which) due to the rhythm of studios and shows I haven't been moving around too much in the last while, we have been living here in London for the last 8 years and in Dalston for the past 5.
12. Last time you traveled? To where?
August to Provence in France for the weddings of 2 friends and off to LA and afterwards the best bit Mexico... can't wait.
13. What website(s) do you visit most often?
I used to look at all the art ones, Arrested Motion, Juxtapoz, Boooooooom etc but in the last year I haven't bothered so much. I wanted to forget what other people are doing and just focus on my own thing.
14. Website you're most ashamed that you visit daily?
Oh no don't ask me that! Well I am getting married next year so it's a lot of girlie stuff.

15. A quote that has stuck with you?
Sticking with the Frida Khalo theme "Feet what do I need you for when I have wings to fly?"
16. The most trivial thing you know?
Green tea tastes best at 80 degrees, let the kettle sit for a while.
17. High school GPA?
What is that??
18. Least artistic award you've received?
I don't think I've won any awards artistic or otherwise!
19. Oddest job you've done to make rent?
Patrolling mummies and guarding marbles.
20. DIY, Ask a question we didn't and answer it. What kind of socks are you wearing today?
Turquoise with a fried egg pattern.
(photos by Ian Cox)


Chloe Early
Rainbow Ruins
November 10—December 8, 2012
Corey Helford Gallery
Culver City, California