Back Talk: A Conversation with Andy Kehoe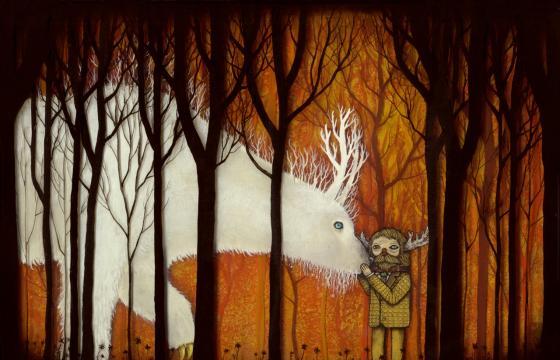 This Saturday, July 7, Andy Kehoe will be showing a body of new works,
Into the Depths
, at Thinkspace Gallery in Culver City. Like us, the Pittsburgh-based artist is currently listening to the new Walkmen album, is inspired by Josh Keyes, and gets most of his everyday knowledge from Snapple bottle caps. Small world...
This Saturday, July 7, Andy Kehoe will be showing a body of new works, Into the Depths, at Thinkspace Gallery in Culver City. Like us, the Pittsburgh-based artist is currently listening to the new Walkmen album, is inspired by Josh Keyes, and gets most of his everyday knowledge from Snapple bottle caps. Small world...
Andy Kehoe's new body of work Into the Depths continues the artist's very personally inflected exploration of memory and the personal imaginary. The work is thematically akin to fairytale, as Kehoe delves into an iconography that speaks of childhood fantasies and adult nightmares; of fears and of wants translated disproportionately into the adult's psychic realm. The end result is an uneasy pairing of whimsy and ominousness. Kehoe uses the suggestion of narrative to imply a trajectory beyond the image plane. The viewer is left feeling as though they have had a glimpse into a much longer, and more significant vignette. Just as all effective suggestions of narrative leave one feeling the absence of its absolute resolution, we feel a mesmerizing pull to Kehoe's narrative fragments, and wonder what else lies beneath the surface.


The setting of the work is primarily arboreal: the fairytale's stomping ground par excellence, and its characters vary from faceless amorphous specters, to giant seemingly sympathetic animals. A perfect combination of anthropomorphic creatures, and fantastical substitutions for the human, the fairy tale speaks of reality in the realm of shadow. Visually, Kehoe uses the dramatic devices of light and contrast to expound upon the emotional and atmospheric tensions the work seems to convey. Stark whites, and strategic areas of luminous color, are drawn out in contrast to pitch blacks, and obscure earth tones. Fine lines exist against solid blocks of color and areas of textured surface. The work is graphically compelling and visually seductive; combining an economy of line with a simplicity of palette.


Materially, this new body of work marks a departure for Kehoe. Using a poured resin technique, in conjunction with his accustomed paint and ink application, the artist creates further accretions of depth. This use of layering suspends the imagery spatially and contributes to the work's mystery, visual seduction, and complexity. As though we are looking into an ominously reflective surface that might just show us more of ourselves than we had thought, the added dimensional illusion of resin suspends our gaze. Andy Kehoe's work is compelling, haunting, and magnetic. Into the Depths reminds us of the presence of shadows always lurking just beneath the surface. —Show text courtesy of Marieke Treilhard
• Where are you living and working right now?
I am currently in my home town of Pittsburgh, Pennsylvania. When all of the glaciers melt and the world is thrown into apocalyptic anarchy, Pittsburgh is projected to be the center of the civilized world and the sole remaining bastion of hope in the god-forsaken wasteland of Earth. So grab a spot while you can. If we become friends, I promise to allow you into my compound and will give you a gun and a pair of binoculars.
• Least favorite part of making art? And your favorite part...
I get a little impatient at the very beginnings of a show. All I have is an overabundance of ideas and have to deal with utter mental chaos until things start shaping up a bit. I love the final stages of a piece when things finally start coming together and the fear that you just wasted four months of your life on a steaming pile of shit begins to dissipate a bit.


• Favorite medium to work with?
I started using resin for my most recent show with Thinkspace and it literally added a new dimension to my work. It's been really gratifying to add so much more depth and space into my work. Creating worlds has always been a desire of mine and this medium produces an actual tangible little world in the end. It's really exciting.


I also tried painting with pure rage last summer, especially during the time I quit smoking. But I decided to save that medium for more cathartic pursuits like punching cardboard boxes into pieces behind grocery stores and sprinting madly down random streets in the middle of the night usually weeping and under the influence of bourbon.
• Last art show / exhibition you saw:
Sadly enough, I can't remember. I've been stuck in the studio working on this show every single day for the last few months. I need to get out more.


• If you could collaborate with one artist, living or dead, who would it be?
Tyrion Lannister.
• Artist(s) that inspire you?
Recently I've been digging Michael Page, Esao Andrews, Aron Weisenfeld, Corey Arnold, Josh Keyes, Martin Wittfooth, Souther Salazar amongst many others that I've mentioned before. I see really inspiring images and art on a daily basis on the internets as well but never really catalog them mentally or physically.
• What time of day are you most productive?
I would have to say at night because I can't seem to fall asleep before 4:00 in the morning. I'm actually doing this very interview at 3:30 AM and I feel like the night is still young and full of possible activities.


• Currently listening to?
Beach House "Bloom", The Walkmen "Heaven" and The Tallest Man on Earth "There's No Leaving Now" are on pretty heavy rotation.


Last year I accidentally ripped my ceiling fan out of the ceiling while fixing my bed. The sheet somehow got caught in it... its complicated, but they finally replaced it with a new one a couple days ago. Its clicking. Lots of clicking all day and all night. Its a very grindy, clicky click. I don't think they installed it correctly. So I'm also listening to that insufferable fan... the breeze is very nice and well appreciated though.
• How do you take your coffee?
I take it decaffeinated because regular coffee started giving me extreme anxiety and chest pains a few years ago. Who knows why but it makes me feel like a gurgling sack of misery and panic being slowly strangled and imploding in on itself. Its not fun. I used to be obsessed with coffee.. maybe I overdid it at some point.


• Last meal?
Chicken pot pie. Don't judge me. I'm busy.
• Last three places you have lived?
New York, Pittsburgh, and Portland, OR.


• Last time you traveled? To where?
Last place I traveled was to Seattle for my show at Roq La Rue which was a great time. My fiancé and very soon to be wife, Ash, was able to join me and we had a hell of a time in Seattle. Lots of wine and tasty food. Then we took a drive down to Portland to visit some friends. The last place I traveled that wasn't work related was to an all-inclusive resort in Mexico with Ash a little over a year ago. It's awesome. You just eat and drink as much as you want and lie around like lizards. Lizards with frozen drinks.
• What website(s) do you visit most often?
I really enjoy art and image blogs like Boooooom and FFFFound. It also seems like I'm drawn to sites with titles that features a random assortment of repeating vowels and consonants.


• Website you're most ashamed that you visit daily?
I keep a Yahoo email account for online shopping so I don't flood my personal email with junk mail. Everytime I go to check that email, I get sucked into some random post on Yahoo that makes me lose even more hope in humanity... especially when I scroll down to the comments section. Good lord. It's a collision of half-baked ideology and unwavering idiocy exploding into a super nova of stupidity, leaving a pile of corpses strewn about the smoldering impact crater. Those corpses? Any sort of reason or rationality. They never stood a chance. It's weirdly amazing and I get completely blown away by how utterly ignorant and intolerable people are.
• A quote that has stuck with you?
"Hey You Guys." -Sloth


• The most trivial thing you know?
Whatever Snapple tells me.
• High school GPA?
I think it was around 3.5. Failure was not an option.
• Least artistic award you've received?
Best Kisser 2011.


• Oddest job you've done to make rent?
Painting dragons and trees for a living is pretty odd in itself.
• Favorite superhero and why?
Batman. He's a badass and does things in a way that people say, "He does that."
Andy Kehoe
Into The Depths
Reception with the artist:Sat., July 7th 5-9PM
Exhibition on view: July 7th - July 28th
6009 Washington Blvd.|Culver City, CA 90232