Juxtapoz
ArtPadSF 2012: Highlights from San Francisco
May 18, 2012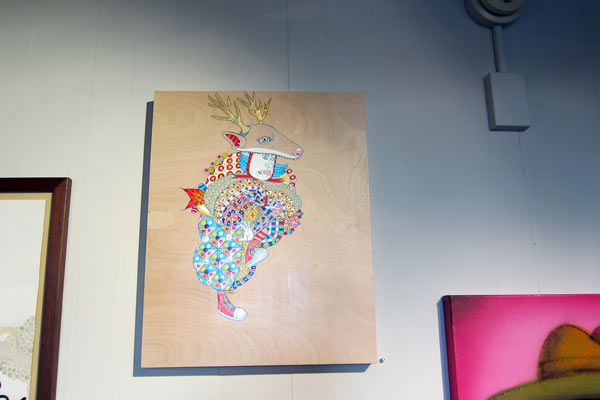 Yesterday we attended the opening party and press preview of
ArtPadSF
at the Phoenix Hotel, a unique art fair situated around a pool with each gallery occupying a hotel room surrounding an open courtyard. Galleries such as New Image Art, Robert Berman, the Luggage Store, 111 Minna, Gregory Lind all had strong "rooms," showcasing a blend of both classics and up-and-coming talents.
Definitely a strong point of ArtPadSF is the set-up, with an easy and unique way to navigate into each room, and how each gallery interprets their hotel rooms is something that catches you when you move from place to place. New Image transformed their closet into a Date Farmers shrine, and others transformed their bathrooms into separate galleries all together. Project One from SF turned their closet into an interactive presentation, while Robert Berman had a fantastic selection of photos from the Occupy movements. Luggage Store showed off their legacy of fantastic shows with Barry McGee, Swoon, Monica Canilao, and Modernbook Gallery held onto its San Francisco roots with classic and vintage SF photos from Fred Lyon. And above the hotel, Mars-1's new mural stood tall, organized by
WallSpaceSF separate from the fair.
Here is a mini recap of the sights we saw...
Poolside...
Project One from SF with Jet Martinez, Robert Bowen, and others...
New Image Art Gallery, with Retna, Os Gemeos, Augustus Thompson, Chris Lux, Maya Hayuk, and Date Farmers...
Luggage Store, with Barry McGee, Swoon, Ed Templeton, Os Gemeos, Ferris Plock, and others...
Sally V posing with the Gemeos...
Robert Berman Gallery... with Mr Fish
All photos by Evan Pricco