Juxtapoz
"Art Truancy: Celebrating 20 Years of Juxtapoz Magazine" @ Jonathan LeVine Gallery—The Art
May 19, 2014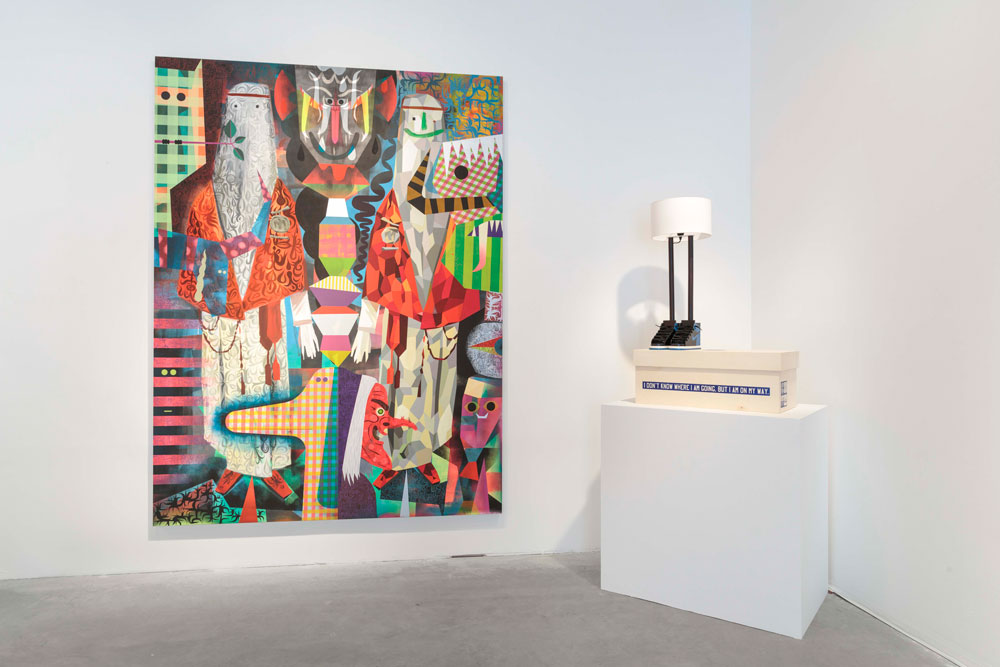 And finally, the art. We are so proud of all the artwork that is on exhibit in "Art Truancy: Celebrating 20 Years of Juxtapoz Magazine," open at Jonathan LeVine Gallery in NYC through June 14, 2014. It blows our mind that we are now two decades old, but what is even more amazing are all the artists that have been in our pages over those years. Their works tell the story, create the chance to document alternative art narratives, bring out the fans, bring out the collectors, and keep the creative energy of Juxtapoz alive. Here, then, is all the art in "Art Truancy."

The show is open through June 14, 2014. Don't miss it.

All photography by Andrew White.
Jonathan LeVine Gallery is pleased to present Art Truancy, a group exhibition celebrating the 20th Anniversary of Juxtapoz Magazine. The exhibition will take place in both locations of Jonathan LeVine Gallery (557C W 23rd Street and 529 W 20th Street) in Chelsea, and will feature works by over forty artists.
"Juxtapoz has played an instrumental role in the development of the genre of work our gallery exhibits, contextualizing it within the spectrum of Contemporary Art. It gave a voice to the artists involved early on and continues to build upon that foundation, integrating the talent of new generations. The collective rise in popularity of this entire community has since achieved a level that not only infiltrates the more established and insular art market but also far surpasses it in fan following and recognition. I'm very proud to present this exhibition which celebrates and highlights some of the key players who have contributed to these past 20 years of Juxtapoz, and what is certain to be a lasting legacy." — Jonathan LeVine
"Juxtapoz Magazine and the Jonathan Levine Gallery were born only a year apart, on opposite coasts, sharing raucous roots and a mission to be the agents of art. It's only fitting that Juxtapoz partner with this gallery to showcase and celebrate two decades of the makers who continue to amaze." — Gwynn Vittello, Publisher
"The great part about celebrating our 20th Anniversary is not only to see how far and widespread this art community has grown and accomplished in two decades, but also just how many great artists continue to emerge and strengthen the core. There is an energy here in emerging and outsider art: it's as strong as ever, both Juxtapoz and Jonathan LeVine continue to reinforce its importance in contemporary art." — Evan Pricco, Editor
ARTISTS IN "ART TRUANCY" INCLUDE: Alex Gross, Alex Pardee, Andrew Schoultz, Brett Amory, Camille Rose Garcia, Chloe Early, Clayton Brothers, Conor Harrington, Craola, Dennis McNett, Don Ed Hardy, Doze Green, Dr. Lakra, Faile, Frank Kozik, Gary Baseman, Grotesk Horkey, How & Nosm, James Jean, James Marshall (Dalek), Jeff Soto, Jeremy Fish, Jeremy Geddes, Josh Agle (Shag), Marion Peck, Mark Ryden, Maya Hayuk, Miss Van, Neckface, Olek, Parra, Pushead, Revok, Richard Colman, Robert Williams, Ron English, Sage Vaughn, Saner, Scott Musgrove, Seonna Hong, Shepard Fairey, Swoon, Tara McPherson, Thomas Campbell, Tim Biskup, Todd James, and Todd Schorr