Juxtapoz
Anomalia @ University Art Gallery, UC San Diego
March 07, 2012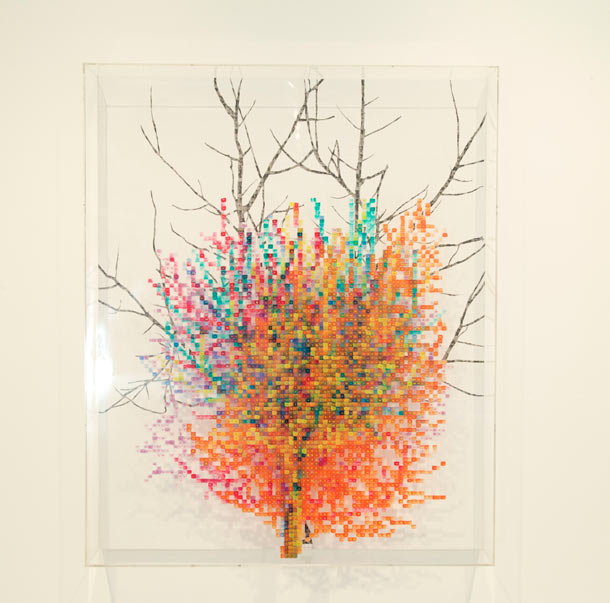 Anomalia is a group show curated by Lucía Sanromán currently on view at the University Art Gallery, UC San Diego. The show exhibits work from Charles Gaines, Erick Meyenberg, Erick Beltrán, and Jorge Satorre all employing empirical systems in their practice including ethnographic data research, cognitive modeling, and systems theory.


Charles Gaines, a widely exhibited conceptual artist and CalArts professor, has two bodies of work in the show from the 1980s working as a historical and theoretical contextualization to the younger artists in conversation with Gaines. Gaines' Landscape: Assorted Trees with Regressions (1981) and Numbers & Trees V (1989) investigate the role that systems play in the creation of form and of aesthetic phenomena using constraint such as predetermined numerical structures rather than the artist's own subjective desires and needs, the artist proposes that concepts such as beauty and order are learned rather than implicit to the artistic subject. Erick Meyenberg utilizes LED lights, music and physical space to create a "four-dimensional diagram of genetic coding of Mexicans, from the Colonial period through today. Using 22 individuals as subjects, Meyenberg calculated the dimensional genetic diagram." The light installation is an immersive phenomenological experience derived from extensive ethnographic research. Beltrán and Satorre worked collaboratively on an illustrated micro-history of cognitive science, psychoanalysis, art history, and literature. All together the show combines scientific research with aesthetics blurring the lines between the two fields of interest.


The show runs until May 18th.
http://uag.ucsd.edu/