Juxtapoz
All City Canvas' "PIEZAS" @ FIFTY24MX Gallery, Mexico City
May 06, 2012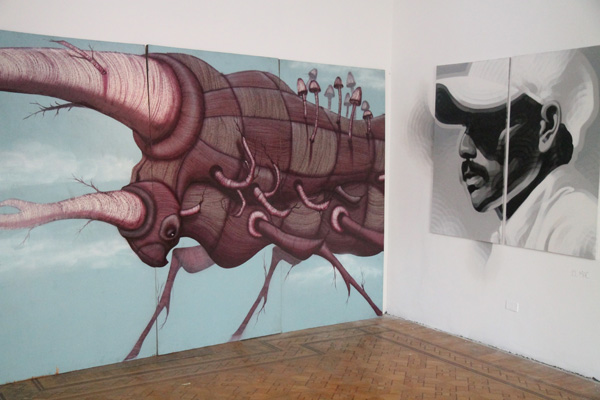 Last Thursday the exhibition PIEZAS opened as part of the Festival All City Canvas at Fifty24MX in Mexico City. Several pieces were on view by many of the artists participating in the festival such as Saner, Roa, Interesni Kazki, Aryz, Sego and El Mac.
From our colleagues in Mexico City:

In contemporary societies, very few have access to massive media mechanisms. Publicity, political and ideological propaganda plague the urban landscape. The visual landscape of cities has transformed in a system of control and not as a fountain of information. It is for that reason that in recent years, street art has become an escape valve for those that want to express themselves out of the system. This new possibility has generated a movement that has taken the origins of graffiti and street art to a new terrain, integrating formats, techniques and mediums: aerosols, acrylic, erasure, stencil, sticker, wallpaper, intervention, video mapping; what brings them all together is visual imaginary that identifies with the new generation of spectators that share references to global pop culture, a return to technique and above all the use of public space as part of the integral piece, creating discourse that nourish the streets, the cities, countries and individuals of all those who inhabit it.

All photos by Jovanna Venegas.