Juxtapoz
Alex Pardee's "Bunnywith" @ Gallery 1988:East, LA
Oct 18, 2013 - Nov 09, 2013Gallery 1988:East, Los Angeles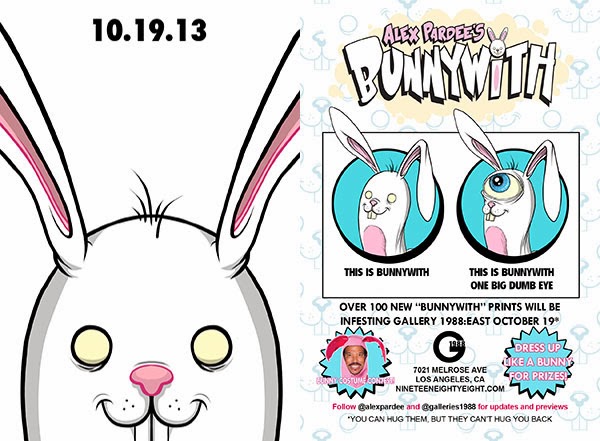 Tonight, October 19th at 7pm, at Gallery 1988: East in LA, our good friend Alex Pardee will be opening his most prolific, ambitious, affordable, silly and IMMATURE solo art gallery that he has ever attempted in his life! Alongside some new paintings, toys and masks, he will be simultaneously releasing over 100 new brand new "Bunnywith" prints and that's not even including a ton of free things that he'll be giving away for no other reason than because he appreciates you coming out to an art gallery on a Saturday night when you can clearly instead go to the Disco or to the Drive-In to make out with people or girls... So get yourself there!

For more info head over to the Facebook Event.
There is also a costume contest and prizes, so you might want to get pretty excited about that as well!!!