Juxtapoz
Agostino Arrivabene "To Pathei Mathos" @ Panorama Museum, Badfrankenhausen, Germany
Jun 29, 2013 - Oct 20, 2013Panorama Museum, Badfrankenhausen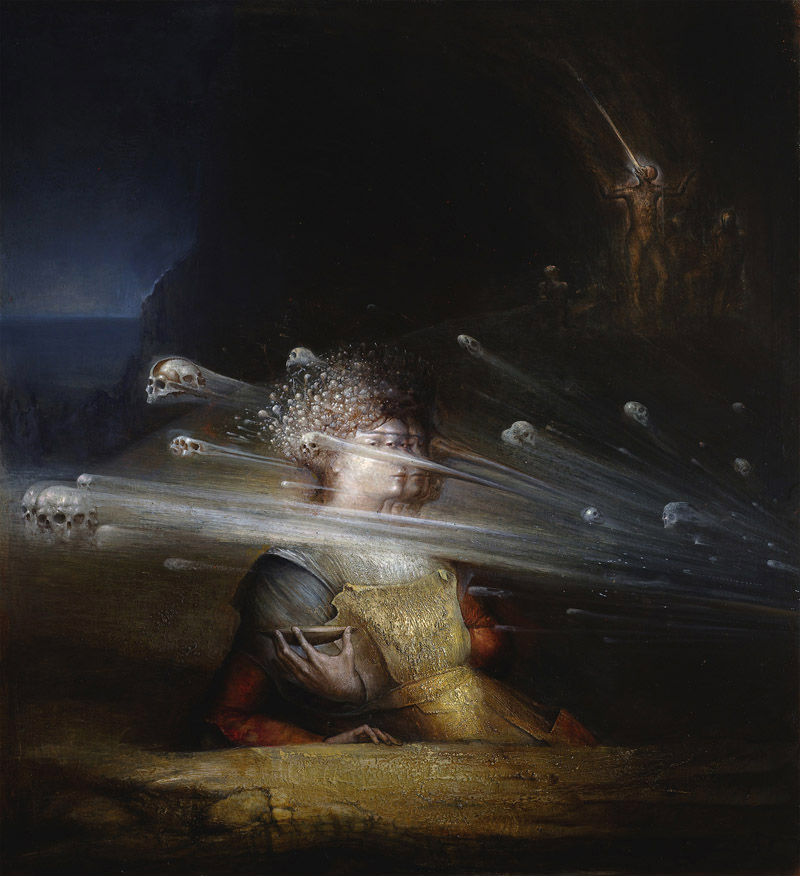 The Agostino Arrivabene "To Pathei Mathos" retrospective exhibition at the Panorama Museum in Badfrankenhausen, Germany is composed of 125 works, mostly paintings (miniature to large) and drawings, etchings and sketchbooks. During the opening, Arrivabene guided visitors through the chronological layout, giving explanations of ideas, symbols, themes, and techniques. The thorough instruction on the works was rich with interesting anecdotes.
During the years he has developed a series of symbolic, mythologic themes and characters (life and death, light and darkness, body and soul, Pandora, Orpheus, Athena, Lucifer etc.) trying to sublimate his own tragic life experiences into a creative and sharable path. The result is a fantastic and magical trip in which personal nightmares and eternal feelings can live side by side. The title of the exhibition is a Greek phrase that means truth and knowledge through pain and suffering.
With a strong classical and italian background, all influences and inspirations from ancient and present masters are clearly and sincerely visible in the progress of his activity, from the strong fascination for the symbolism of William Blake, Gustave Moreau and Ernst Fuchs in his earlier work, through Odd Nerdrum and the nordic art environment.
In the earliest works there is a sense of 'horror vacui' and he strives to control every millimeter of the composition. The later years reveal a progression and arrival at his ability to use elements of chance by allowing pigments, oils and varnishes to flow and spatter until the imagery of his idea emerges.
The Panorama museum hosts the very large painting (47 x 403 feet on a single canvas!) by Werner Tübke called the Peasants' War. The state funded museum is unique in the region for its devotion to the presentation and diffusion of figurative art which is largely due to the passion of its director, Gerd Lindner. The museum has no permanent collection.
Special thanks to David Dalla Venezia for relaying his observations and Agostino Arrivabene for the images. Text by David Molesky.
Agostino Arrivabene: http://www.agostinoarrivabene.it/