Juxtapoz
Ace Hotel x WeTransfer Billboard Project in Los Angeles
July 10, 2015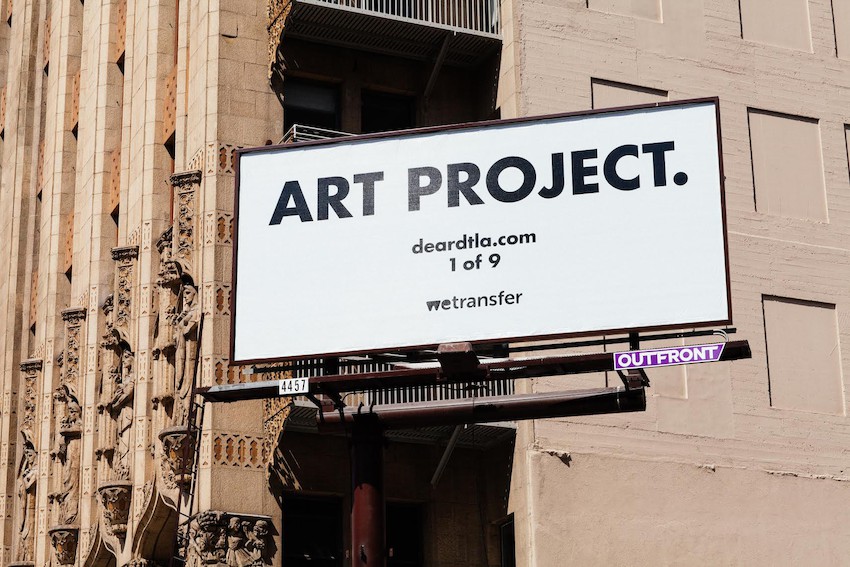 As you may have seen from past collaborations, the Ace Hotel is one of our favorite hotels and creative teams. They have really been the leaders of turning a hotel into a destination of art and culture, and we appreciate that and like that they have hotels in most of the cities we travel to. And now in downtown Los Angeles, they have teamed up with WeTransfer to create an ongoing billboard art project. First up is Brian Roettinger.
Here's the lowdown:
Ace Hotel and WeTransfer are working together to share something beautiful with Los Angeles. The project was born of our mutual desire: to carve a space in the world dedicated to sharing — art, creation, things that necessitate a confluence of great minds and creative peers.
We took over the billboard at Ace Hotel DTLA and we're giving it to artists from around the world to broadcast their visions to the city, bringing WeTransfer's content sharing out of the internet and into the streets. We will showcase the work of a different artist each month through February 2016.
Los Angeles' own Brian Roettinger, whose work ranges from graphic design to album art direction will be showcased for the month of July. Scottish conceptual artist Robert Montgomery whose large-scale works are created in a self-proclaimed "poetic and melancholic post-situationist tradition" and the Italian communication research center, workshop and design school Fabrica will also take part in the project. Using the billboard as medium, and similar in shape and possibility to WeTransfer's art-filled wallpaper on their site, we're giving some of our favorite world-class artists a space to express what they want for the residents and visitors of DTLA to experience.
Along with the billboard, each artist will create a component that will be available for digital download through WeTransfer, so their work can be shared with friends, artists and passersby. In addition to the many who will view the work from the streets of DTLA, the artwork has the potential to reach an additional audience of over 25 million​ unique users as it will also be showcased on WeTransfer's own site — creating a global exhibition of creative talent.
You can follow along at deardtla.com.
above: Brian Roettinger, NEVER ODD OR EVEN. Photo credit: Liz Kuball