Aaron Horkey, Esao Andrews and Joao Ruas "The Gilded Age"
Thinkspace Gallery
//
September 12, 2015 - October 03, 2015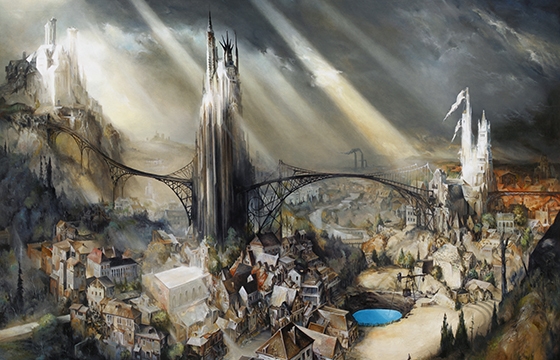 The Gilded Age, as coined by Mark Twain, rose from the settling smoke and blood-soaked fields of the Civil War. Many factories built for military endeavors were repurposed for new manufacturing. Industry developed at a fierce pace. Veins of railroads rippled across the musculature of the country. Along with demand for gold, steel and oil, this created a significant rise in America's economic wealth. By the early 1900s, the US became the largest industrial nation in the world. Immigration swelled; wealth, however, belonged to the few. Ruthless business men controlled it, creating social and economic disparity, where chasms of poverty were obscured by a golden glow.

From left: Esao Andrews, Aaron Horkey, Joao Ruas

Originally published in the September, 2015 issue of Juxtapoz Magazine, available here. The Gilded Age will be on display at Thinkspace Gallery in Culver City from September 12–October 3, 2015.
Despite all this, the Gilded Age is rich with cultural inspiration that lingers today: an interest in the mysteries of the occult, speakeasy salons that incite the excitement of secrecy, and perhaps, more poignantly, a longing for beautiful ornamentation and a sentimentality missing from our current national oeuvre. In many ways, it feels as if we are experiencing a second coming of this time period, ushered by sweeping technological advances and similar economic gaps, all interpreted by a myriad of aesthetic pursuits.
Enter 2012, when Andrew Hosner of Thinkspace Gallery and artist Aaron Horkey engaged in a casual conversation about Aaron's ideal three-person show. With little hesitation, Horkey named fellow artists Esao Andrews and Joao Ruas. A date was set for autumn of 2015, and the exhibit was christened The Gilded Age. At the time, Horkey had been solely plying his highly sought-after ornamental illustrative style on projects outside of the gallery scene, generating his return to fine art pursuits. Anticipation for the unveiling of this ideally curated trio has been growing.

Esao Andrews

While each artist is proficient in their media of choice, it is the synthesis of these choices and their cultivated visual language that captivates. Distinctly different and yet each instantly recognizable, the conjured world's teem with the fantastic: Andrews' glowing colorful world is laced with a dangerous play of delicacy and deterioration, his subjects and structures suspended with lash-thin threads of steel and spider silk, his figures skewed with off-kilter abnormalities. Ruas' bodies are riddled with speculative transformation, and mechanical specimens thread their way into the otherwise soft flora and fur-filled compositions, while Horkey continues his obsession with the imagined evidence of a world receding to a post-natural state after human extinction, focused on the winged and clawed fauna that has evolved to survive a new, brutal world.
Recently I had the opportunity to view these works in progress and speak with the artists about their ideas and inspirations as they approach the exhibit at Thinkspace Gallery, where new artists cut their teeth in what is also a homecoming space for more established artists. Mutual respect and inspiring vignettes about their ideological processes follow. —Jess Schnabel
Jess Schnabel: While Aaron's original intention in calling the show The Gilded Age was to focus on the idea of contemporary times being a redux of that time in US history, the title has evolved to become a springboard for inspiration. How did this historical time period influence your work for this show?
Esao Andrews: When Aaron mentioned the title, my first cursory thoughts were about things that were literally gilded, ornate and aged. It's common imagery in his work and there's often those elements in my work and Joao's work too. I took the actual Gilded Age as a starting point. During that same time, you have the Gold Rush and the World's Fair; I used motifs like the sunburst crown of the Statue of Liberty, which also appears in Art Deco buildings. I looked into Prohibition and The Great Gatsby. The surreal world I paint is definitely not historic, but I tend to take familiar elements and run my own story around them. This was the approach for the show. It's just that sense of the old timey American struggle.
Joao Ruas: This was the biggest leap in the history of progress: for thousands and thousands of years, the fastest something traveled depended on how fast a horse could go and endure. In a couple of decades, everything changed… were people ready? I don't know… I tried to display this question. Also, it was a really weird time visually; all the beautiful, ornate designs combined with brute and destructive machinery. It's all very inspiring.
Aaron Horkey: I feel like almost everything I've drawn over the past fifteen years owes its existence to this idea of an opulent façade being sloughed away to reveal its foul inner workings. This notion is evident in my earlier work as I started to introduce the nicks and pockmarks onto my surface textures, and now has devolved into a total melting away of all sense of modernity. A war on right angles and the scourge of the straight line. The reclamation of the man-made by nature is a theme I'm extremely interested in and one that really drives the thrust of my creative output, especially now that I'm able to explore and expand on personal work outside of the commercial sphere. Esao and Joao both conjure a similar tension and release in their work, a sense of a scenario askew but also one of a reassuring calm in the wake of catastrophe. I'd wanted to use The Gilded Age as a title and inspirational springboard for years, and I'm thrilled to bear witness to the work they've assembled for this exhibition.

Aaron Horkey

Aaron, your work seems to be a speculation on what happens to a world without mankind, a kind of post-natural evolution. I imagine your world is the result of the "sins" of both Gilded Ages, how we are ruining the earth, and what could possibly happen to it if we were eradicated.
AH: I think a lot of my speculative attempts at imagining life on Earth after man stem from growing up an only child on a farm in the rural Midwest, isolated from the world at large. I get a real charge out of imagining what will happen to the forests of massive wind turbines that have sprouted up along the vast prairies of my region when no one is around to maintain them. I love exploring abandoned areas and structures and the deafening quiet that permeates them. The fact that I'll never be able to experience a world without humans is as fascinating and heartbreaking as knowing the Mesozoic and Oligocene periods existed but cannot be seen. It forces me to think richly and stay sharp.
If the past Gilded Age was a time of the rapid growth and industrialization of railroads, coal mining and factories, our time seems to be undergoing a similar dynamism. Technology renders us relentlessly "connected" while craftsmanship and emotional process are evaded more and more. However, being an artist and hand crafting survives as a timeless occupation. Can you each talk about what it is like to be working as an artist and producing bodies of work despite the pressing influences of technology in our modern times?
AH: I'm slowly beginning to warm up to the advantages of using technology as a tool but I'm still a veritable neanderthal on the digital evolutionary timeline. I definitely think it was worthwhile to reject technology in my work for as long as I did as it allowed me to develop naturally and learn traditional methods and techniques at my own glacial pace. Building a solid foundation is only going to foster strong future work, regardless of approach or medium. I still draw, paint and letter my work completely by hand but I have started to use Photoshop to complete separations and pre-press work for screen printing. My recent foray into the wormhole of Instagram has been much more fun than I would have believed. Being a primarily visual platform, it certainly appeals to my sensibilities, as does the freedom of the DIY nature of the application.
EA: As a visual artist, technology has been great for me. The Internet allows an artist global exposure without relying solely on anybody else. It allows me to see other artists' work and information that, in general, I would not have known about otherwise. On the other hand, we are bombarded with so much interesting media and the disappointment of hearing some inspiring viral video or image was faked is so commonplace that it's desensitizing. It's becoming harder to be awestruck. As a tool, a computer is incredibly helpful. I take reference photos on my phone and print them out instantly. Photoshop allows me to make color and composition mock-ups and alter them with ease.
JR: I think we are living through an exceptional age, with exceptional pros and exceptional cons. I was a much more connected person years ago but I've been trying recently to get away from it unless necessary. The hive mentality is what frightens me, especially when what I choose to do with my life asks for exactly the opposite: to be unique. With that being said, it's fantastic that I am emailing you these words instantly, that I am able to establish a conversation, and maybe even a career in the US, being located thousands and thousands of miles away. However, I do wish I could calmly read a book without reaching for my phone every ten minutes.

Joao Ruas


Aaron, aside from group shows, this is your first exhibit in five years, and also your return to paint after a long time. How do you feel your work has changed, shifting from an illustrative career into the fine art sphere?
AH: I haven't been able to paint much at all since the early 'aughts, maybe squeezing in one or two small pieces per year. This is my first major exhibit since 2010, and even though it's not a solo show, the pressure to come correct is intense and daunting, as well as wholly welcome. I feel like the time spent away from painting has actually worked to my advantage in terms of being acutely aware of exactly what I want to achieve with my work and how to arrive there. All those years of setting up intricately layered screen prints has made me much more confident with color, form and composition. As far as new tools, I'm completely obsessed with the transparent spray paint that is available now. When I was painting walls in the '90s, my quiver was quite rudimentary—it worked but I felt hindered by what I was able to achieve within the framework of graffiti at the time. Now there are so many choices, and materials are so advanced, there's really no limit to what can be created. I'm excited to see how kids coming up now utilize these new high-powered arsenals.
Can you talk about why you have shied away from showing your work in galleries and why that is now changing? Also, I understand that this show came about during a casual conversation about what your dream three-person show would be.
AH: I had taken a break from exhibitions to focus on refining my craft and also to be more available to my children while they were young. My workload for the past ten years has been overwhelming, to say the least, and I honestly was stretched too thin to work exhibitions into my schedule other than the odd group show or print retrospective. I always had dreams of being able to focus on a cohesive body of work and to return to painting, and now I'm beginning to see that transition actually happen. I've been testing the waters with involvement in some group shows and mural projects and the response has been very encouraging. I'm beyond thrilled to be given the opportunities I have and cannot wait to bring these pent up ideas to life. As for the other fellows in The Gilded Age, without a doubt Esao and Joao are two modern masters and I get simultaneously inspired and depressed when I see what they've been working on—always setting a high standard that I struggle to aspire to. I'm so damn lucky to be friends with such immensely talented folks and to share a show with these guys is an absolute dream.
In preparation for this show, how much did you take into consideration the other artists' work? What about each do you admire?
EA: I have a heightened sense to put more care and sensitivity in my craftsmanship. These guys have it all—a completely cohesive world where everything living, dead, constructed or deteriorating has been confidently accounted for down to the minutest detail.
JR: I don't think much more can be said about these two great artists. Aaron combines discipline and draftsmanship to an extent that is just absurd, making art that references the past but not only that, is deeply modern in its very own way as well. I had the opportunity to visit his studio and see a tiny bit of his process and the surroundings that inspire his work. Going through the flat files that contain years and years of work was breathtaking; it is truly impossible to find a favorite piece. I always felt that Esao has this whole universe inside his mind with all those forms, deep shadows and colors that only exist in that place. The way he depicts it is masterful and very human.
AH: I'm mostly just trying to keep up with these guys. The level of quality in everything I've seen from them for this show is just staggering.

Esao Andrews

Sketchbooks have continuously played an important role in your work and development as artists. There is something so intimate and vital to me about each of your sketchbooks. Why is it important to keep them?
EA: My sketchbooks always have been very journal-like. I consider them to be a mix of handmade news clippings of my life, observations and exercises. Early on, I was doing quite a bit of illustration and commissioned work, so my output wasn't feeling like "mine" at all. Putting so much effort into something that is so personal that I'd be embarrassed to ever see published makes them mine. At the same time, they are record books from my youth to the present.
AH: It had been about a decade since I'd kept a sketchbook but I started up again last spring after a particularly traumatic series of events in my personal life. Once stabilized, I started drawing again, really drawing—not just drawing for a project or job. My favorite work since then has been sketches in books, or on random scraps of paper and envelopes. My work has certainly benefitted from this return to looseness, and I've seen a dramatic shift in my compositional technique and technical ability. I look at my work from before and it seems incredibly stiff and stilted, whereas now I feel like I'm finding life in the drawings again.
JR: I have multiple sketchbooks, and they are all a mess. It is where I feel more at home, without pressure, even from myself. I feel that a sketchbook is the most intimate anyone can get with any artist. It's a very obvious statement but completely true.
What outside elements and inspirations currently influence your work for this show?
JR: I didn't know much about the period before, so I started to do research. I tried reading Twain's book but went back to Steinbeck, one of my favorite writers, to see if he wrote something about this time. I then read East of Eden and it gave me some ideas. I am listening to a lot of OM, Earth and hardcore from when I was a teenager for nostalgic purposes.
AH: Always music—The Miasmah, Profound Lore and Constellation labels continue to be constant drawing soundtracks as well as the darker end of the techno and ambient/drone genres. The forests, fields and bodies of water of Rural Cottonwood County. The BloodMilk Pinterest account. Travel, travel, travel.
EA: The movie Metropolis. That New York Times article [about the resurgence of the Gilded Age] that you passed on to the three of us. And a lot of Google image searches.
While this is a three-person show, each collection of work operates as a unique, contained entity. What is the heart of your individual bodies of work?
EA: I'm exploring fragile scenes of hardship and the pioneering spirit in a perilous, dirty world.
JR: Progress, technology, machinery, women in the 1800s, capitalism… it's a full plate.
AH: A flower from a corpse.
The Gilded Age will be on display at Thinkspace Gallery in Culver City from September 12–October 3, 2015.