Music
Juxtapoz @ Treasure Island Music Festival 2012
October 15, 2012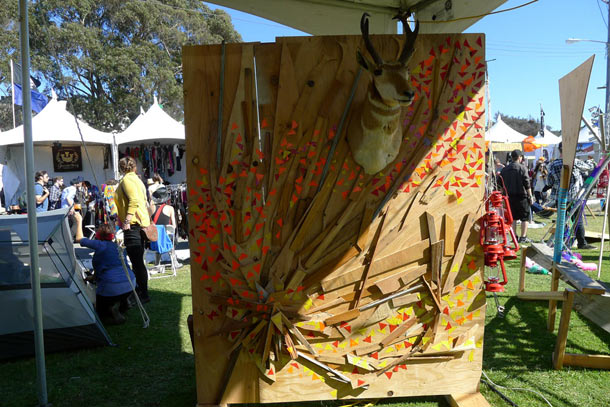 After our partnership with Outside Lands over the summer Juxtapoz was lucky enough to be invited to partner with Treasure Island Music Festival. After a light breakfast we headed to Civic Center to take the free shuttle, yes free, out to the island, a quick 10 - 15 minute ride across the Bay Bridge to enter the festival.
Greeted with all the right attributes for a festival, which includes sunshine, art, delicious food, lots of beer, local Bay Area vendors, an incredible view of San Francisco, the Treasure Island Music Festival featured two stages exploding with music from noon until night. Boasting a rather indie lineup Treasure Island also offered up some big names. Public Enemy came out strong and played an amazing no frills set, and Flava Flav and Chuck D haven't missed a step. Highly anticipated headliners, The xx, were just the way to bring the weekend to an end. We also had to checkout some of the more up and comers, including Juxtapoz favorites Grimes, Wild Belle, Ty Segall, and The Coup, playing the smaller Tunnel Stage gave the audience exactly what they came for.
The Porch Stage made its debut in the Cove this year showcasing "The San Francisco Rock Project" a non-profit dedicated to providing musical education through live music and providing intensive music instruction for young musicians 7-18 in the Bay Area. Also in the Cove was the Silent Disco, a sort of awkward-but-cool experience but no doubt added an interesting layer to the festival.
In addition to all the music, TIMF had no shortage of alternative activities. The 60-foot Ferris wheel was at the center of attention, but so were the surrounding interactive installations and festival performers. Camp DIY, presented by Workshop, was the spot to get your adult arts and crafts on. Inviting festival goers to create your very own terrarium, handmade beer koozie, silkscreening, or a have a good ol' water balloon toss. Camp DIY also showcased incredible sculptures and art installations.
To call this year's Treasure Island Music Festival a success is an understatement, we cannot wait until next year. A special thank you to the Treasure Island Music Festival team and anyone else that contributed to the amazing success of the weekend.
Photos and words by Brent DCVII Gentile

Grimes:


Flavor Flav:



Chuck D:



Ty Segall:



The Porch: