Music
Coachella 2012
May 11, 2012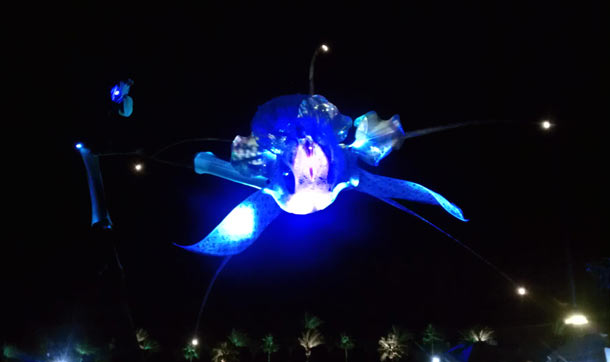 So we went to Coachella and forgot to post our photos like we were supposed to. Well, sue us. Without further ado... The Coachella Valley Music and Art Festival raged for two straight weekends this year in the California desert, taking on a different format but no less fantastic to experience. Juxtapoz Art & Culture Magazine made it to what was the GD outdoor sweat lodge of Weekend 2 amid blazing heats—the typical temps that bounced back from quite the opposite over Weekend 1. Per Golden Voice's wonderfully executed production, 2012 delivered enjoyably in full.
The music was intoxicating, with each band amusing crowds in their individual ways. (We know about Tupac's hologram—which was, of course, balls-to-the-wall mind blowing. But can we talk about the Black Keys' on-stage cutout of Biggie?! C'mon! Understated brilliance.) While the art installations grew in numbers, they were in some cases larger and more engaging. As we know, art IS the integrated backdrop of all our life experiences, so from the Gateway's half-dome looking, moving light show to the 140-foot cherry picker-like orchid with real woman at the flower's center to the VIP roaming—and flrting!—robot, and of course the Coachella ferris wheel, festival art director Paul Clemente reported striving to "select things that cross the whole spectrum of visual art." Mission accomplished. Visual memories were burned into our mind's eyes with longing for Coachella 2013 to hurry along its way. Here's a peak into what passed through our viewfinder.
Words and photos by Erin Dyer
Mr James Mercer of the Shins
Florence of Florence + The Machine:
Snoop, Dre, it was like 1992.
A dude rocking some Don Pendleton x Stance socks...