Illustration
The Work of Violeta Hernandez
December 17, 2014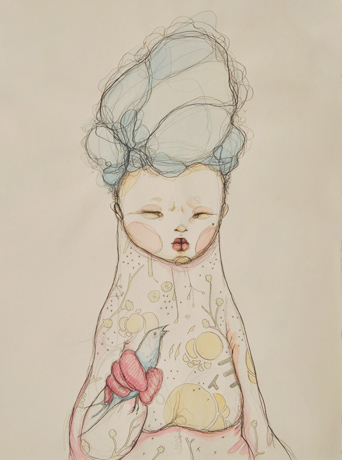 We love the paintins and illustrations of Monterrey, Mexico-based artist Violeta Hernandez. A Graphic Design graudate, Violeta's work centers on feminine esthetics, subtle and sometimes charged with bittersweet romance. Randomly her graphic work transcends bidimensional formats to mold 3D art forms in the shape of art toys.
Violeta has reveled against the vectorial world due to her complete subjugation to computer formats throughout her career. Instead, she finds herself at ease in drawing, paper's texture, the effervescence of colour, inks, shades and fine lines that can only be obtained when working by hand. The artist creates surreal atmospheres & flows through her design process, which permeates her work with neatness, singular balance and -sometimes- sublime chaos.
Violetas universe is as unique as it its intriguing. It gets bended through music, nature and total admiration for the fine arts. She is an admirer of the Rococo movement, with its organic elements, its enduring romanticism, exotica and sensuality. Bosco, Leonora Carrington, Mark Ryden and James Jean are listed as influential in her work.
She is a member of the rising creative class from Monterrey, being featured in individual expos such as "Exótica" at the Arte Cocodrilo Gallery (Mty, Mx 2010) and diverse collective expositions such as "El Arca de Neón" (DF, Mx. 2007), "El Último Mono" (Barcelona, Spain 2009), "Animalia" (Mty, Mx 2010), "Muera el Perro" at the Pristine Galerie (Mty, Mx 2011), & MINIMART at Fifty24 Gallery (Mx.D.F. 2011).