Illustration
Mike Mitchell's Super Pop
April 01, 2013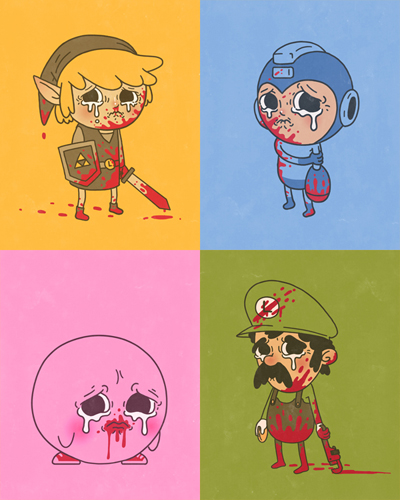 Mike Mitchell and I first interacted on the wonderfully named website "Eat Poo" back in the early '00s. The site was a forum of young and incredibly talented artists who were notorious for being harsh critics and distancing themselves from any artist that wasn't up to par. (Some of you may recall what I'm talking about). Somehow Mike and I made the cut and we've been friends ever since.
Mike, 10 years older, has become one of pop-culture's best known artists and he more than deserves the title. The guy works his butt off. He's done work for LOST, Breaking Bad, Parks & Recreation, Penguin... The list goes on. And even if you don't know who he is, chances are you've seen his work.
Last year he had his first solo show at Gallery 1988 in Los Angeles which focused on pop culture icons and their being "Just Like Us" but really being nothing at all like anyone or anything and the hilarity of it all. The show's reception was massive, with lines around the block and a packed house all night. But not only that, the idea was perfectly executed by Mike whose sense of humor and brilliance has found a way to reach millions of people through his art. Something many, many try and never find success with.
Mike currently is working on a new solo show and is in the midsts of a series known as the SUPER series, which involves icons seeming a bit more heroic than usual.
Mike also has a solo show of all new work opening April 26th at Mondo Gallery in Austin, Texas.
Curated by Zach Tutor of Supersonic Electronic
Follow him at @supersonicart