Graffiti
An interview with Reck
June 14, 2014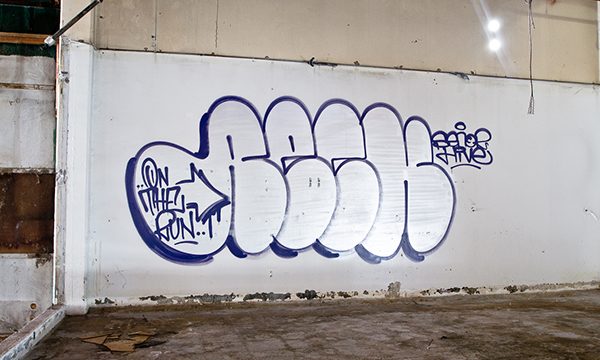 Reck has been bombing Los Angeles since 2004. We recently caught up with him to ask how he got started in the graffiti game and what his goals are for the future.
How long have you been writing and what crews do you rep?
Well I've had a habit of writing on things as long as I can remember, but I'd say it was around 2004 when I started to really get into graffiti. And I'm from GSF and OTR.
What got you interested in graffiti and who did you look up to coming up in the scene?
I would have to say skateboarding had a lot to do with it. I was always on the streets skating and getting into trouble with my friends, I guess graffiti just kinda followed for some of us. As far as who I first looked up to coming into the scene, it sounds kind of cliche cause a lot of them are still at the top today. But I was really inspired by a lot of the stuff the MSK's and AWR's were doing as well as the KOG's and LTS'. The train tracks I grew up painting had a lot of old Aloy and Eyons pieces that still burn a lot of the stuff that's painted today. Lets see, the LGF's had a lot of dope stuff. Meko and India were the first ones that really started doing heavens in the area I grew up. There's just too many to name, a lot of dope stuff was going on at the time.
Thoughts on the current LA graffiti scene.
LA was kind of in a drought for a while in my opinion. The same people doing the same bombs in every cut of the city gets pretty old pretty fast. But recently there's been a hand full of writers bringing some color back to the streets. All the billboard collaborations, and street side burners are a sight for sore eyes to me.
OTR is large and well respected crew in LA give us a little history of the crew and what it means to you?
Well its a very established crew and has been for a long time, specially when it comes to Los Angeles graffiti. To rep a crew you once looked up to is kind of a trip, but I'm just honored to be able to contribute and be apart of the team.
Favorite type of surface to spray and favorite tool of the trade?
Bag of paint, NY fats, bricksquad...
Favorite city outside of LA to paint in?
Detroit, hands down.
Who's a writer in your opinion that doesn't get enough shine?
I would have to say my boy Fobek. This dude gets around more then anyone I know, and is always painting quality shit. Definitely the pioneer and owner of his style which I think is pretty rare these days. And he can tell you a very detailed story with just emojis.
Any goals for 2014 as a writer?
Stay consistent, avoid the bullshit, and stay out of jail.
Any final words or shout outs you wanna give?
GROUP TEXT GANG HOE!!!
...and im out.
Interview by Walter Yetman aka The Harsh Truth of the Camera EyeFollow him on Instagram.