Graffiti
An interview with Blah
May 10, 2014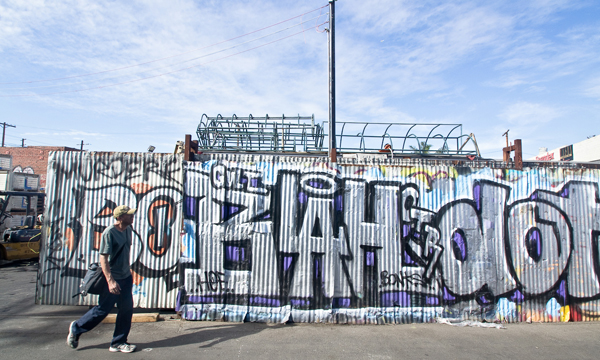 Blah has been writing for almost 10 years painting his name all over Los Angeles repping crews such as HOF, CULT, and DMS. We recently got a chance to ask him a few question about his graffiti career and how he got started.
WY: How long have you been writing and what crews do you rep?
Blah: I been seriously writing since 2005. I rep VDS VanDalS crew HOF Hanging Over Freeway Hate Our Fame CULT Caught U Lookin Twice Coming Up Like Thugs OTR On The Run Only The Real DMS Demonstrating My Style Drugs Money Sexx.
WY: What got you interested in graffiti and who did you look up to coming up in the scene?
Blah: I got interested by the older guys I grew up with. I would hang out at BBQ and parties I would see family and friends hitting black books and doodling they're names and then I just started writing my name over and over until i realized I could write it everywhere. I looked up to all the writers I saw growing up from the early 2000 and up. I saw a lot of writers specialize in different aspect of graffiti and I give them all equal respect. I saw that there were bombers, taggers, sticker kids, scribers, bus mobbers, train writers and the guys that tried to do it all. I personally respected the city bomber more then any other category. As I have matured more in graffiti I respect everyone who does they're thing and takes pride in what they do. I have thought highly of a writer and when I met them in person I was disappointed with their character.
WY: Give a little history of OTR and what the crew means to you
Blah: OTR is one of LAs oldest and strongest crews I take so much pride to represent it. The history is on the walls it speaks for itself. Shout out to all the homies!
WY: Thoughts on the current LA graffiti scene?
Blah: LA graffiti is one of the hottest in the country if you can make it here you can do it anywhere. Just my opinion.
WY: Favorite type of surface to spray and favorite tool of the trade?
Blah: I love to paint anything that's virgin. I like to pop a spot off and be the first to hit it. I like to make a spot out of anything. Some people hold back and don't like to paint certain surfaces I'll paint it all. Favorite tool I would say for me is a scribe and paint. They're is never enough paint, bucket paint, spray paint, solid paint markers. Paint!
WY: Favorite city outside of LA to paint in?
Blah: Favorite city to paint outside of LA would have been Detroit so far. I met some cool dudes that showed me the city and when I went out there I was with some good friends. But nothing beats down town LA.
Interview and Photos by Walter Yetman. <a href="http://instagram.com/HarshTruthOfTheCameraEye>Follow him on Instagram.</a></p><p class=" _cke_saved_href=" harshtruthofthecameraeye=" "="">Follow him on Instagram.