Tattoo Travel Book: The Work of Pioneer, Ben Corday
Tattoo // Monday, 04 Oct 2010
1
This slim volume is packed full of beautiful designs by Ben Corday, which has 141 never before seen tattoo designs by the little-known master. This is a beautiful facsimile of the legend's design book made for traveling while he was on the road.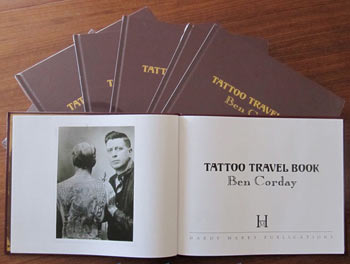 The Tattoo Travel Book is a facsimile reproduction of an album of tattoo flash painted by Ben Corday. Born in England but mainly tattooing in America, Corday was a leading practitioner of the sophisticated and elegant design style that ushered in tattooing's first "golden age" in the late 19th-early 20th century. These fine-line ink and watercolor designs, created in the 1910s-early 1920s, were painted individually and glued into a leather-bound souvenir photo album.
The book includes photos and pitch cards of Corday and his work as well as a short introduction by Ed Hardy. Lyle Tuttle supplied a rare copy of Corday's obituary from the 1938 Los Angeles Times and also contributed invaluable historic information. The 26 pages of flash (141 designs in all) are shown actual size.
Tattoo Travel Book —Ben Corday
36 pages, 8 x 10" hardbound
Hardy Marks Publications, Fall 2010
$40