Tattoo Artist Devon Blood's New Book Release
Tattoo // Monday, 29 Aug 2011
1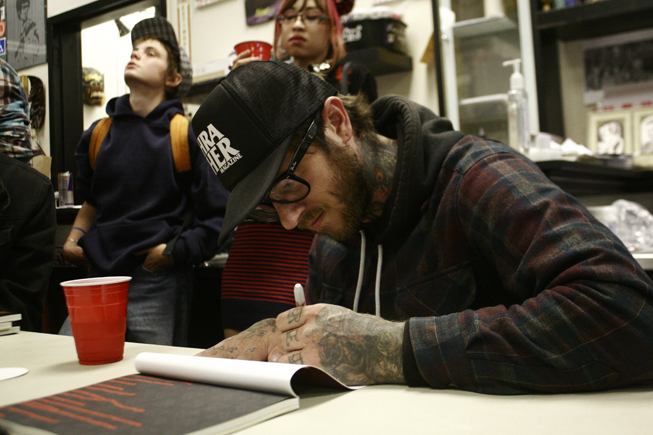 From our sister publication, SLAP: Devon Blood was shot in the head defending himself and his girlfriend during a home invasion in East Oakland in 2006. He survived. However, he lost a lot of his functioning on his right side. As a skateboarder, bicyclist, and tattoo artist, this was tremendously difficult for Devon, but he charged through his recovery and relearned a number of skills. Most prominently, Devon has set out on a new artistic path by teaching himself to draw and tattoo left-handed.
On Friday, August 19th, Devon released Keep Laughing, his autobiographical collection of memoirs, art, and commentary with the help of his friends, namely Alex Turan and Jimmy Tobias. The release party was hosted by Sacred Tattoo in Downtown Oakland, but Keep Laughing is available for purchase online at Devon's website, http://devonbloodtattoo.com.

Lots more at SLAP Magazine. ALL IMAGES COURTESY OF SLAP and Cameron Cuchulainn.