Skin & Bones: Tattoos in the Life of the American Sailor
Tattoo // Friday, 25 Mar 2011
1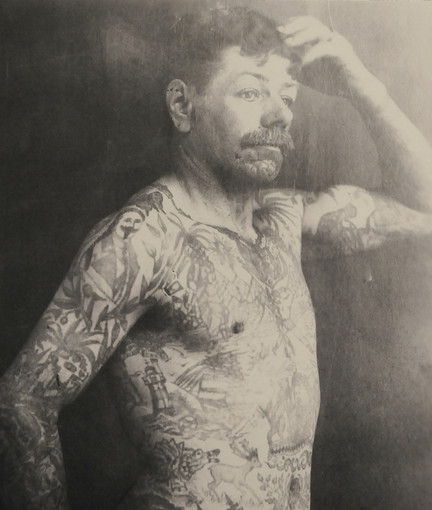 If you happen to be near the sea in Connecticut this weekend, may we suggest checking out something very interesting:
Skin & Bones: Tattoos in the Life of the American Sailor,
at
Mystic Seaport
, or or the Museum of America and the Sea, in Mystic, Connecticut.
As the Museum of America and the Sea notes of the traveling exhibit, "
Skin & Bones
presents over two centuries of ancient and modern tattooing tools, flash (tattoo design samples), and tattoo-related art, historic photographs, and artifacts to tell the story of how tattoos entered the sailor's life, what they meant, and why they got them.
A tattoo could be a memento of a voyage, a memorial to a lost shipmate, or a talisman to ward off evil spirits. They also had a practical side: tattoos were used to prove identification in event of catastrophe or imprisonment. Regardless of the purpose, the tattoo served to prove the wearer's membership in a maritime brotherhood."
What we find interesting here at Juxtapoz is the span in time
Skin & Bones covers.
It goes back as far as American Naval tattoos of the late 1700s. There is also a segment on Samuel O'Reilly's revolutionary electric tattoo machine of 1891, which would be a highlight.
The exhibition is on display through September 5, 2011.
via
TCR
.