Image Gallery
Duke Riley for NYC's MTA
Tattoo // Wednesday, 24 Aug 2011
1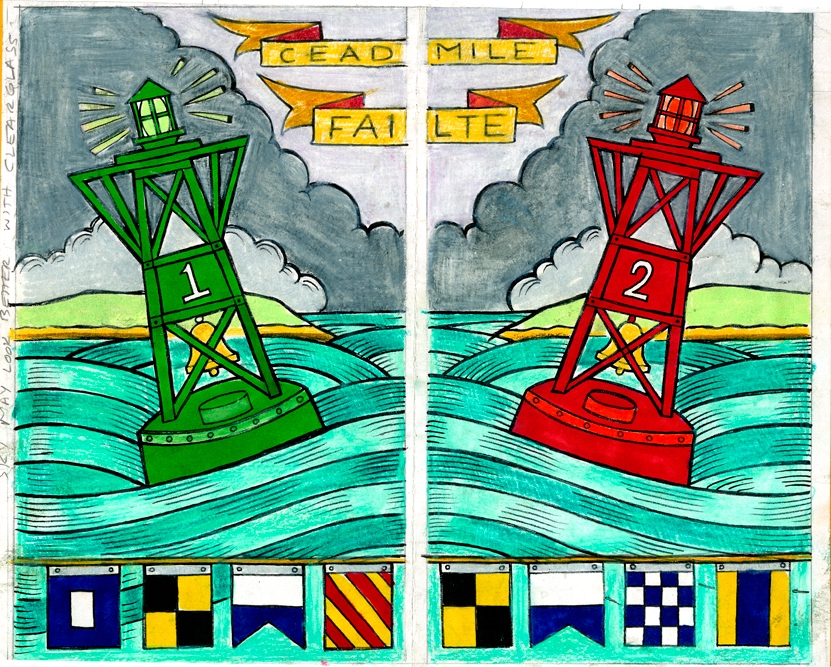 We had read about
Duke Riley
providing artwork for the MTA this past Spring and Summer, but we were just reminded of the work that Riley ended up creating. Be Good Or Be Gone is a commissioned project that Riley did for the
MTA
featuring an installation of faceted glass in platform windscreens at the Beach 98th Street A/S train subway station (does anyone know if this ever went up?) and art in subway cars.
Watch our 3-part series Juxtapoz Presents: Duke Riley below.
We haven't been able to see any finished images of the Beach station, but Riley's work is featured in subway cars throughout NYC. And Riley posted a series of works and
explanations about the art that went into his commission
.
In relation to the image above, Riley notes, "The
MTA
proposal drawings consist of several symbols local to the Rockaways. The left side of one diptych shows two images of a Piping Plover – an endangered bird that has chosen a section of beach at the Rockaways, just a few blocks south of the 90th Street station as one of its few remaining nesting grounds. The nautical flags spell out the popular phrase "Be Good or Be Gone" which can be seen behind the doors of several pubs and restaurants in the neighborhood.
"The designs I am proposing relate to all three of the Rockaway beach subway stations, which hold personal significance for me. Eleven years ago they gave me my first glimpse of the Rockaways, and I've been grateful to them ever since."