Art Is Forever: A Tattoo Project in Portland
Tattoo // Monday, 07 Nov 2011
1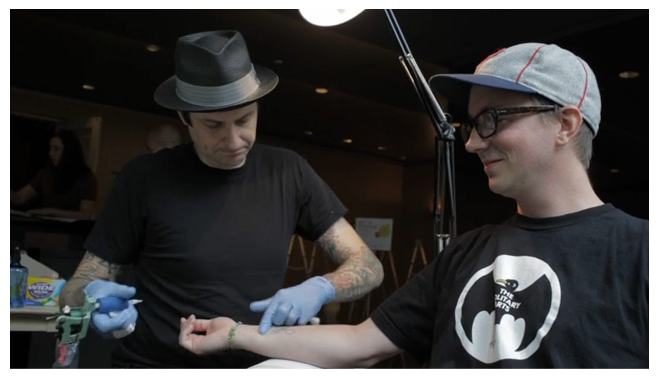 "Art is Forever is a project by Jason Sturgill that attempts to foster a more meaningful connection between the art museum and its visitors. Several Portland artists have been selected and given the opportunity to create illustrations inspired by their visits to the Portland Art Museum. These illustrations will be made available as free tattoos on a first come, first served basis throughout the entire day."
Jason Sturgill
is a multi-disciplinary cultural creative with a background in advertising, design and various curatorial practices. Having worked for Wieden+Kennedy, Dark Horse Comics, Laika, and Nike has heavily influenced his current work which centers around ideas of local business, capitalism, sustainability, and education. His online art gallery, The Wurst Gallery, has been featured in magazines internationally and has been featured at various local venues such as the Ace Hotel, Design Within Reach and Savage Gallery. Jason is currently a candidate in the MFA Art and Social Practice program at Portland State University.
Tattoos by:
Jason Leisge of Oddball Tattoo
&
Cheyenne Sawyer of Atlas Tattoo
Tattoo Designs by Amy Ruppel, Evan B Harris, Will Bryant, Kate Bingaman-Burt, Lori D., Joshua Porter, Brad Simon, Lettie Jane Rennekamp, Julianna Bright, Adam R. Garcia, Jason Sturgill and Ryan Bubnis.
Art is Forever from Jason Sturgill on Vimeo.