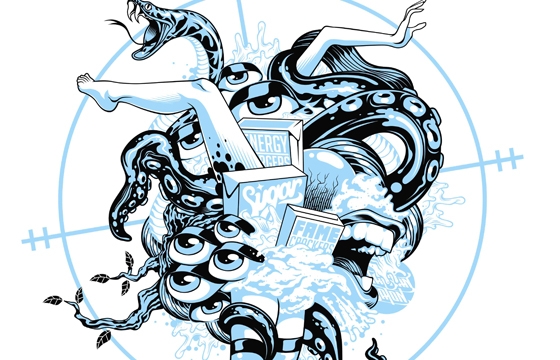 Juxtapoz // Tuesday, June 11, 2013
Xbox and Insomniac Games just announced their newest title exclusively for Xbox One, Sunset Overdrive. In celebration of this E3 announcement SA Studiosbrought on artists Tristan Eaton, Alex Fuentes and Eyeone to create work inspired by game, including a huge, colorful mural on the side of Meltdown Comics and limited edition t-shirts featuring their work. Juxtapoz // Wednesday, September 01, 2010
SA Studios selected world-renowned artist David Choe (Juxtapoz #112) to contribute an original piece to the promotion for the upcoming film, Machete. After lowriding around LA with film lead Danny Trejo, Mister Cartoon (Juxtapoz #70) also offers his rendition of the film poster.