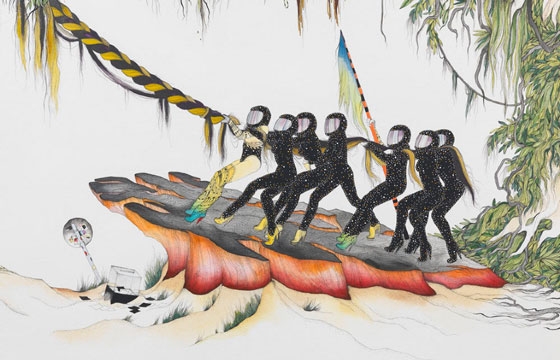 Illustration // Thursday, January 22, 2015
Jen Ray's drawings are militantly detailed filigrees of judicious line and colour; the artist's hand enunciates sparring Amazonian women, who inhabit decaying, semi-surrealist and strangely beautiful wastelands. These female warriors, resplendent in their sexualized uniforms, are often seen violently charging with bellicose flags, warring amid apocalyptically upturned vehicles and phantasmagoric architecture. Their un-patriarchal world tumbles smoke from its underbelly, and serrated fantastical mountains appear as bejeweled apparitions, sharply erupting towards a de-pigmented sky.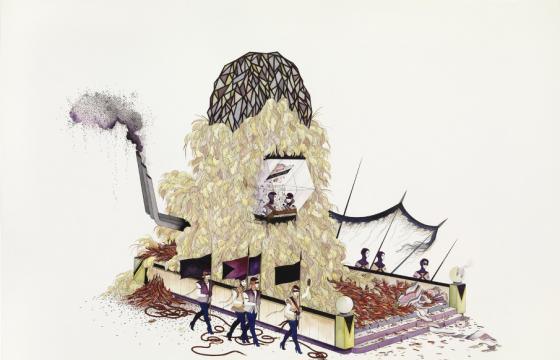 Juxtapoz // Friday, August 23, 2013
This morning we are checking in with fine artist Jen Ray ahead of her solo exhibition Better to Reign in Hell Than Serve in Heavan opening September 13th at Haus am Luetzowplatz in Berlin. The work seems to channel some sort of Rose Bowl Parade about 1,000 years in the future. The Raleigh, North Carolina-born fine artist is represented by Wentrup Gallery in Berlin, and has taken the concepts of these paintings and transformed them into performance pieces.