Illustration // Friday, April 17, 2015
Today, April 17, 2015 Hattie Stewart: Adversary opens in the South Gallery at House of Illustration in London. This is a new body of work from the self-proclaimed professional 'doodle-bomber', in which Stewart takes on glossy advertising imagery with her characteristic homage-meets-satire approach. The exhibition marks the first in House of Illustration's series of illustrator commissions – new work from contemporary illustrators to be shown in House of Illustration's South Gallery.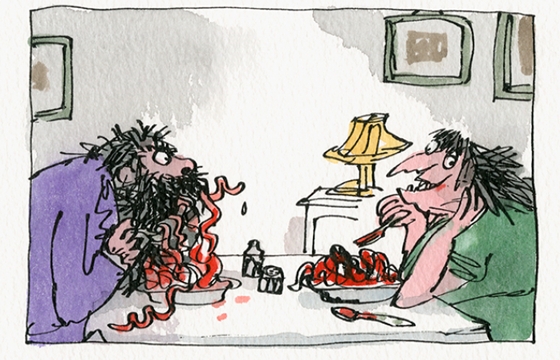 Juxtapoz // Tuesday, July 08, 2014
The House of Illustration's inaugural exhibition just opened this past weekend in London, kicking off with Inside Stories, a landmark show by Quentin Blake, one of the UK's most important and best-loved illustrators whose work is recognized worldwide. This exhibition will give a unique insight into the origins of some of Blake's most characteristic and popular creations, from his illustrations to Roald Dahl's The Twits and Danny the Champion of the World to his own Clown and The Boy in The Dress by David Walliams, together with illustrations to books by John Yeoman, Russell Hoban and Michael Rosen.