Shepard Fairey on Barbara Kruger
Street Art // Monday, 22 Nov 2010
1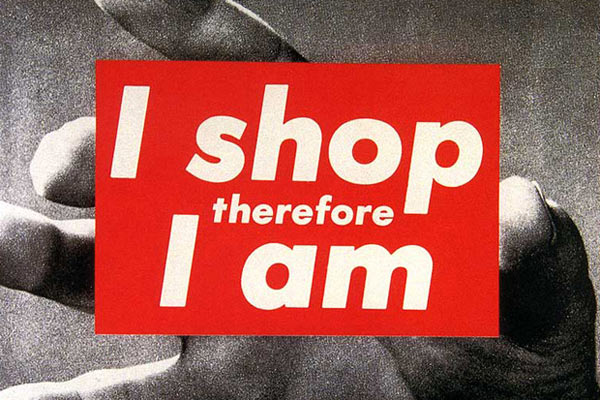 Barbara Kruger might not be a name you know, but you probably know her work and/or the many stylistic imitations she has inspired. She is one of my biggest influences. My OBEY type logo and the Supreme logo were inspired by Kruger's work. I owe my red, black, and white color palette to Russian Constructivism and Barbara Kruger. When I first started doing street art In the late 80's and early 90's I saw countless knock-offs of Kruger's style for college campus political statements and posters of dissent. Kruger's style was eye catching and seemed to universally say "pay attention and take this seriously".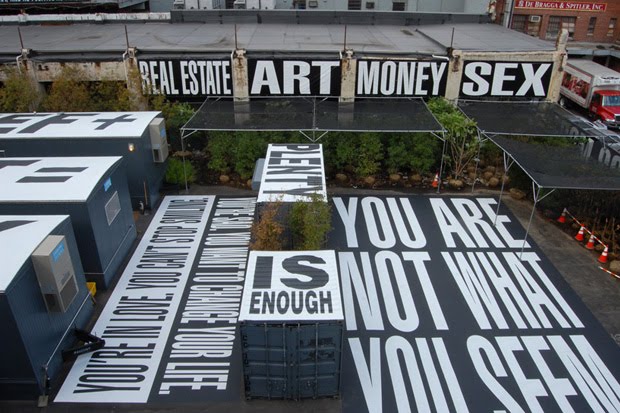 Kruger has made a tremendous impact in several key areas of contemporary art: graphic design and appropriation, public address, and political content. I feel strongly that in the wake of Pop Art and the art world acceptance of the pop cultures vernacular it utilized, that fine art has increasingly been defined by intent rather than a traditional "art" aesthetic or particular technique like painting.  Kruger's background in graphic design and advertising enhanced her astute recognition of the power of words and images to control, to arouse desires, and to define and reinforce stereotypes. For Kruger, working inside the advertising world was the perfect training for her to understand the techniques of manipulation, and to then illuminate and undermine them with her own subvertising art.
Though Kruger's work may have inspired organizations like Adbusters, her art goes beyond parody because it targets pervasive aspects of our cultural psychology rather than specific products which are more of a by-product of our psychology, but  reinforces it none-the-less. Kruger's works, like almost all ads, utilize text and images, but the intent of the work is very different from advertising. Where advertising aims to make people think the answers to their problems lie in escapist consumption, Kruger shrewdly uses the visual language of advertising to pull back the curtain and force the viewer to analyze its machinations. Kruger appropriates images that may have originally supported another narrative, but can lend themselves powerfully to Kruger's own narrative, which may call into question the agenda of the image as it relates to societal norms.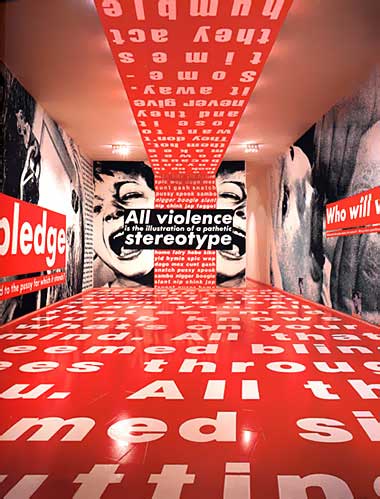 Not only is appropriation the most logical way to call attention to how images are used, it is more subversive as a way to turn the tables by calling methods of control into question.  In the sense that Kruger's work  utilizes the  look of the advertising it critiques, the art is a democratic counterpart to the most pervasive and familiar propaganda in western culture:advertising. Beyond just the accessibility of her aesthetic, Kruger' has gone out of her way to accessibly engage the public in the same public spaces where they would encounter advertising. Billboards, posters, bus stops, jumbotrons etc... have helped Kruger reach a broader audience and provide a provocative contrast to the ads people are constantly assaulted with.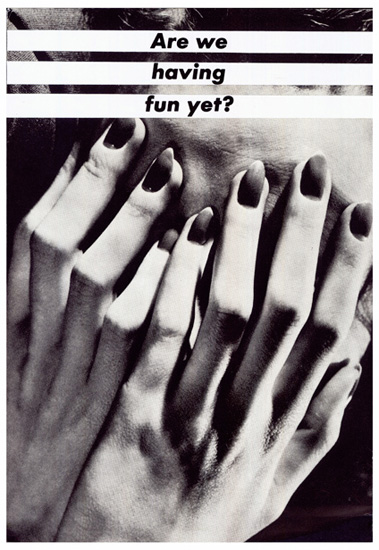 Barbara Kruger emerged during a time when there were even fewer female artists than today, and groups like the Guerilla Girls made art about the marginalization of female artists. Politically, Barbara Kruger has been categorized as a "feminist artist", but her work challenges not just gender hierarchy, but all aspects of dominance and control. Political art was not in fashion when Kruger hit the scene, and I believe that her fine art, and work in support of political causes, broadened the conversation about the role of politics in art, paving the way for an artist like me.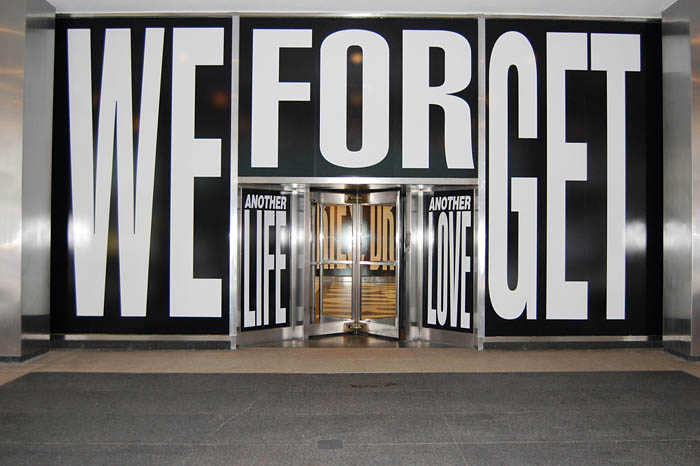 When I was asked in an interview after Barack Obama's election, what art I thought should go in the White House, I said "Barbara Kruger's WE DON'T NEED ANOTHER HERO". After Bush's failed macho war in Iraq, Kruger's piece might remind Obama that masculine chest beating could go wrong. I wish my decorating advice had been taken because If Obama were looking at that Kruger piece everyday, he might not have escalated the war in Afghanistan. —
Shepard Fairey, October 2010
To read the full interview with Kruger, buy the November 2010 issue in our webstore.