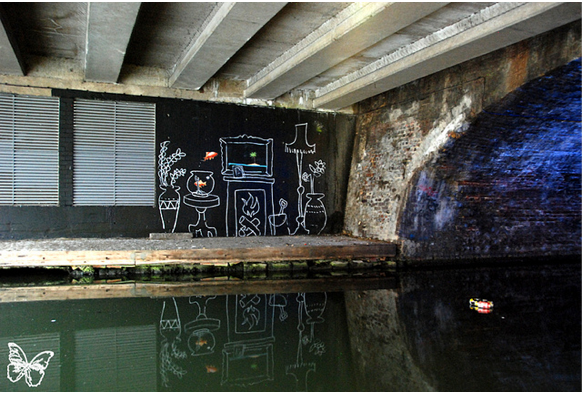 We can't confirm that this is a Banksy mural in Camden in London, but because it is a bit fun to see a mural on the spot where Banksy and Robbo had their infamous row, we wanted to pass this along to you.
Our London correspondent,
Sandra Butterfly
, went to shoot a few pics, and had this to say to us:
A new mural appeared this week end along Camden canal in London, in a spot famously known for the Banksy vs Robbo war. A goldfish in a living room is jumping out of its fish bowl towards the ocean's picture frame.
Even though not officially confirmed yet, the quality of the stencils and wit bear all the Banksy's trademarks.
Even if it isn't Bansky, this was a good piece just on the wit and content alone.