Image Gallery
Living Walls 2013 - Part 1
Street Art // Wednesday, 14 Aug 2013
1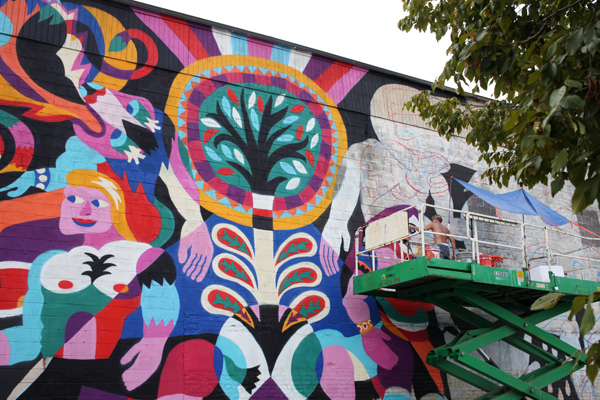 On our first day in Atlanta aka The ATL, Hotlanta or A-Town, we toured around to some of the walls checking out the muralists as they endure the summer heat and lay some paint down. First we got to view some walls by famed-photographer, JR that had been done the week prior before the conference kicked off. After that we caught up with 3ttman as he worked on a massive wall packed full of playful and vibrant colored imagery. Then we saw walls from Inti, Jaz, Know Hope and Roti in collaboration with Jaz. Our night ended at a" mansion party" and in true southern style, it had the largest porch we have had the opportunity to loiter on! Check back tomorrow for more updates!
All photos courtesy of Austin McManus
Check out locations of murals and additional information at livingwallsatl.com
Events this week:
WEDNESDAY, AUGUST 14TH
BSA Movie Night
980 Briarcliffe Road, NE
7:00 PM - 9:30 PM
Jaime and Steve from Brooklyn Street Art will screen a series of street art and graffiti short films
THURSDAY, AUGUST 15TH
Block Party
Edgewood Ave
9:00 PM - 2:00 AM
Restaurants, bars and music venues will come together in support of the conference.
FRIDAY, AUGUST 16TH
Lecture Series
5:00 PM - 9:00 PM
Featuring five keynote speakers and one artist panel
SATURDAY
Main Event at The Goat Farm Arts Center
1200 Foster St
8:00 PM - 2:00 AM
Gallery exhibit featuring work of this year's participating artists, Pecha Kucha style talks, DJ's and bands
SUNDAY
Bike Tour of Walls
Location TBA
5:00 PM - 7:00 PM