Aryz interviewed by Goodfellas Magazine
Street Art // Friday, 30 Dec 2011
1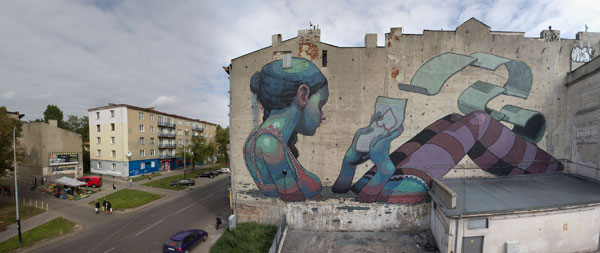 Aryz had a big year in 2011, painting monster size walls in numerous cities, having his first solo show, and gaining a lot of attention from everyone.  Pushead had a chance to interview the artist in our November 2011 printed issue and we are looking forward to where this young artist takes his work in the future.  GoodFellas magazine recently caught up with Aryz at his solo exhibition in Spain.
What does imply making the first solo exhibition in Barcelona?
More than anything I feel some responsibility because they will come many friends and people who I appreciate, and what is more important for me its that they enjoy their visit and my work makes them happy.
How has been the creation process of the work shown?
Before this show I never did much studio work or dedicated much time on making canvases. The truth is that the way of working I had to apply to focus on this exhibition, lock myself in the studio to create, has been a new experience for me. I have taken the production of canvass as a personal challenge. When one paints in the street knows that the mere presence of the work gives more merit, attracts more attention and the process is automatic because the space helps you to build and adapt it. But when you paint a canvass, the work has to defend for itself without taking in account other elements, thus the work is more difficult. The content needs to be entered in the canvass without being limited by the circumstances, which a priori are the most appropriate ones for creating.
It has been a challenge and a way to test myself and see how I work in this field.
Is it very different working in the streets than on canvases?
On a wall you are making a contribution to the wall,  you just make an intervention in a punctual manner, because the suport is the context. On a canvass that wouldn't make sense, you have to invent it all, the theme, the caracthers and the atmosphere
read the rest here