An Interview with Candy Chang
Street Art // Wednesday, 27 Apr 2011
1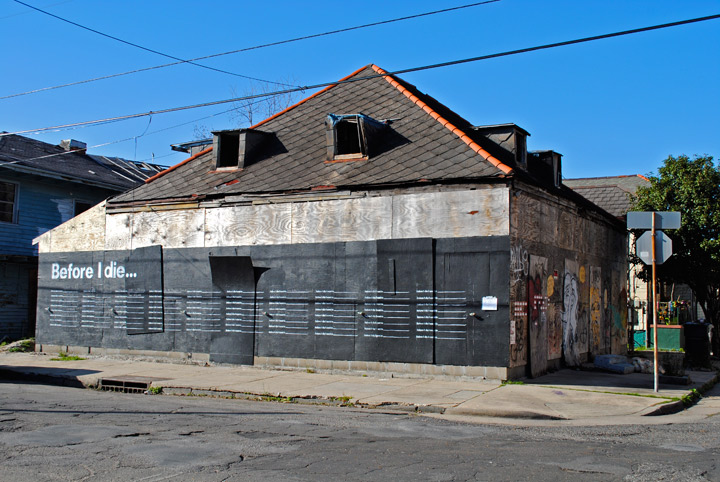 We recently wrote on the site about the public art project, "Before I Die," that installation artist, designer, and urban planner Candy Chang created in New Orleans. Chang has created a few public art installations and ongoing projects over the past few years, including the work in New Orleans along with projects in Fairbanks, Alaska ("Looking For Love Again"), and the "I Wish I Was"
sticker project in New Orleans as well.

Now, our Helen Soteriou speaks with the Civic Center co-founder and New Orleans-based Chang about her public projects, the reaction she gets from people, and what she is working on next.

How would you describe yourself?
I like to make cities more comfortable for people. I like to fool around with public space.

Where do you get your inspiration from?
My projects usually come from little questions I have while bouncing around my neighborhood. What if we could find out what all our neighbors pay in rent? What if we could say what businesses we want in these vacant storefronts? What if we could learn about people's experiences and stories with particular buildings? What if we could use public space to share and learn what matters most to the people around us?

I also get a lot of inspiration from traveling. Visiting other cities makes me see how places are the same and how places are different and what things we can learn from it all. I take a picture of anything that makes me go "ha" or "hmm" or "ooh". Plus I'm Asian so I also take pictures of everything between those moments. My friend says Asians are the unsung record keepers of humanity haha. All ten billion of these images get uploaded into my swampy digital archive where I scroll and stumble upon an image that touches me or makes me think of another image I took in a different city. I could probably use some tips on tagging and organizing. On the other hand, there's good fun in random discovery, like digging through the crates in a used record store.

What drives you?
Just general curiosity and the desire to make my neighborhood a little better. I'm also more and more interested in redefining the ways we share information in public space to improve our personal well-being. It's easy to get caught up in the day-to-day and forget what really matters to you. I think the design of our public spaces can better reflect what's important to us as residents and as human beings.

At this time last year I was living in Helsinki, Finland, where I was a design researcher at Nokia. Over the course of a few months, a lot of personal tragedy happened to me and a few of my friends. We each lost someone we loved very much. Those months made me very aware that life is brief and tender and not to be delayed. It made me think hard about what was really important to me. I realized I want to enjoy more cities with the people I love. I also realized my heart was in public space and experimenting in different ways to make cities better. So I ended my job, moved to New Orleans last summer, co-founded an urban design studio called Civic Center, and started to fool around with public space again.

New Orleans has some of the most beautiful architecture in the world, yet it also has the highest percentage of blighted properties in the country. It's not uncommon to see a pristinely restored shotgun house next to one that looks like it should be in a horror movie. I live a few blocks from this house, which has been collecting dust and graffiti for years. I thought about how I could make this a nicer space for my neighborhood. I also thought about this question that has changed me in the last year.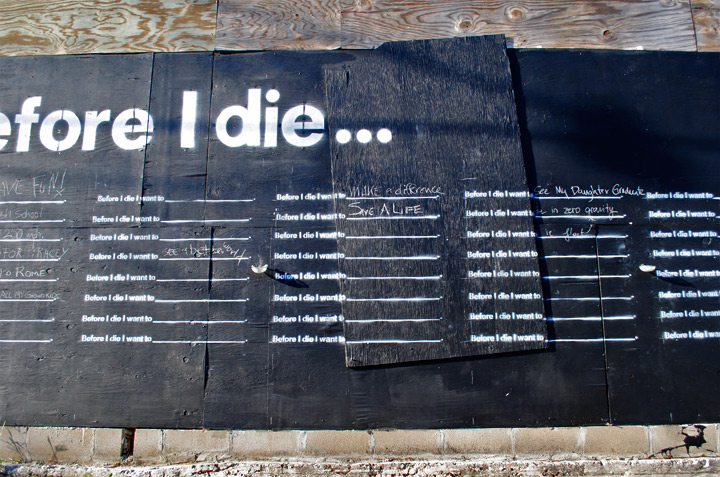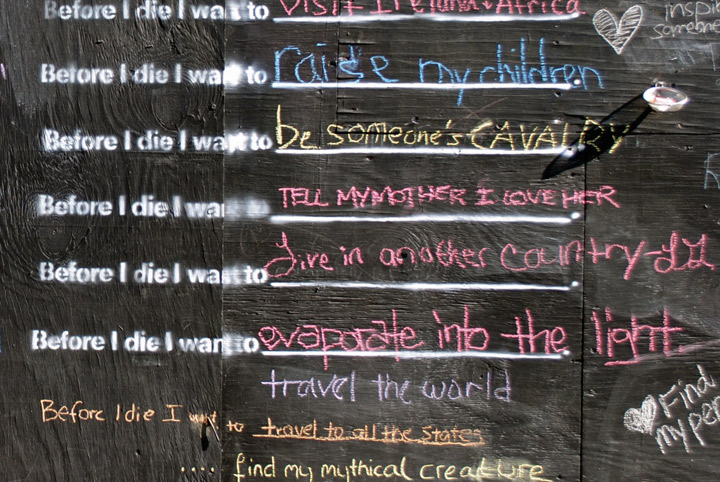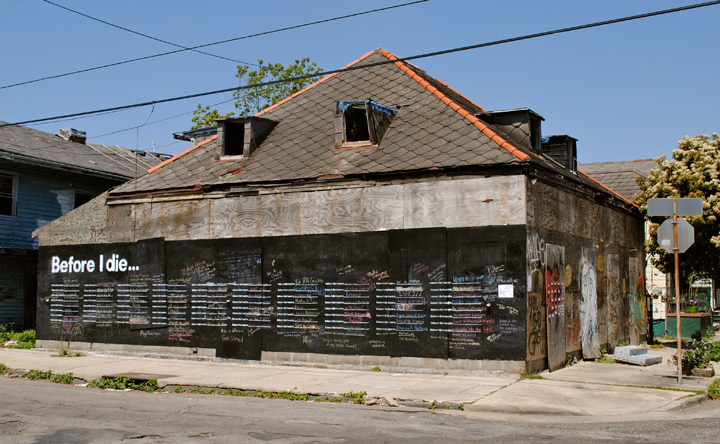 When you started putting-up your installation piece did you have any idea that the world would sit-up and listen?
It was all a big experiment and I didn't know if the wall would even last a day before being tagged over. I've been amazed by how much people have respected the wall and I've been blown away by all the thoughtful, creative, funny, and heartbreaking responses. As others have said, it's about realizing that everyone is different and yet so much the same. It's about knowing you're not alone. It's about understanding your neighbors in an enlightening way. I think for all of us who want to make our place a little nicer, the world is ours to create public spaces that better reflect what's important to us as residents and as human beings.

Do you have any 'Before I die' answers that moved you?
So many responses have moved me. Here are some of my favorites:
Before I die I want to be a YouTube sensation.
Before I die I want to hike the Appalachian Trail.
Before I die I want to straddle the International Date Line.
Before I die I want to see my daughter graduate.
Before I die I want to eat all the candy and sushi in the world.
Before I die I want to own a monkey.
Before I die I want to eat a salad with an alien.
Before I die I want to marry this person (with an arrow pointing to the previous response)
Before I die I want to see the leaves change many times.
Before I die I want to live off the grid.
Before I die I want to hold her one more time.
Before I die I want to cook a souffle.
Before I die I want to make it in the hip hop.
Before I die I want to get my wife back.
Before I die I want to be completely myself.
Before I die I want to help numerous children.
Before I die I want to be the exception to the rule.
Before I die I want to abandon all insecurities.
Before I die I want to love and be loved.
Before I die I want to live without money.
Before I die I want to be someone's cavalry.
Before I die I want to tell my mother I love her.
Before I die I want to evaporate into the light.

Can you tell us what your 'Before I Die' is?
Before I die I want to enjoy more cities with the people I love.
Before I die I want to fool around with public space.
Before I die I want to live in an old hotel and read books for weeks.
How did the 'I wish this was' project come about?
Over the past few years a recurring issue has popped up. When I lived in Chinatown in New York City and saw a new storefront in progress, I would always cross my fingers and think "I hope it's a bookstore, I hope it's a bookstore…", only to be greeted by yet another hair salon. When I was living in Helsinki, my coworkers and I all wished for a bar near our giant offices, and I imagined if we could publicize our strong customer base to a burgeoning bar owner then they would happily set up shop nearby. When I moved to New Orleans last summer I was surprised by the number of vacant storefronts in my neighborhood chock full of people who want and need lots of things, including a grocery with affordable fresh produce.
This made me think about the disjoint between what residents want and what businesses open. There's little dialogue between the people who live and work in a neighborhood and the local businesses that open. What if there was? How can residents influence the types of stores and services that enter their neighborhood? I think many of us walk by vacant storefronts in our neighborhoods and have opinions of what we'd like to see in them. In turn, small businesses would love to know that there's a strong enough customer base to open in a certain area. That was the inspiration for
I Wish This Was
. It's a kind of love child of urban planning and street art - a crude tool and experiment to see what might happen if we could easily say what we want, where we want it. Where better to share our ideas for vacant storefronts than directly on them - but with thoughtful respect. The stickers are vinyl so they can be easily removed without damaging property. I want this project to be a friend, not an asshole, to future business owners who hopefully eventually move into these spaces. The no-tech format also makes it easy for all residents to participate.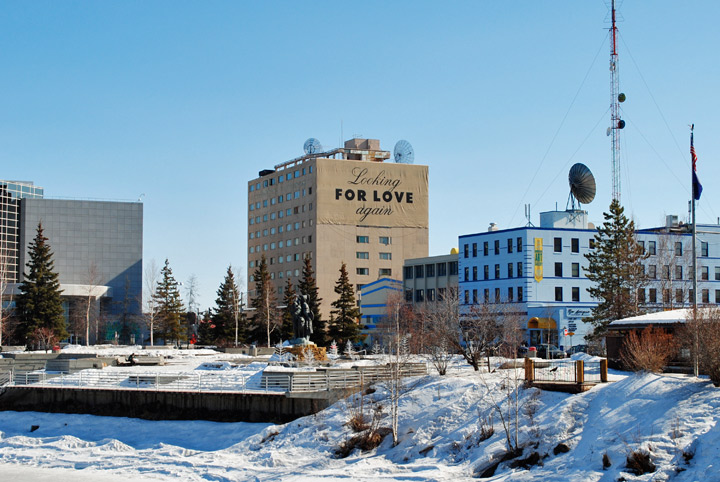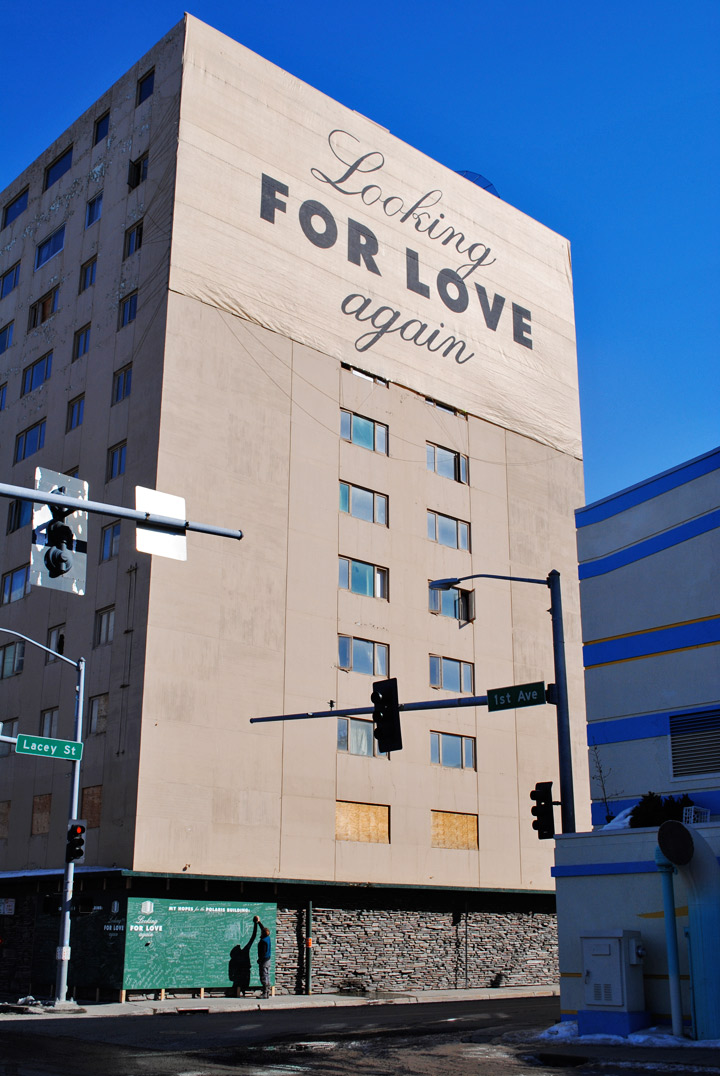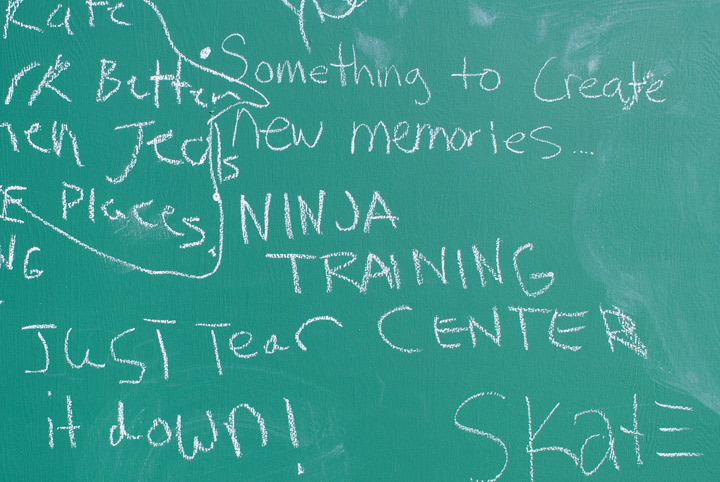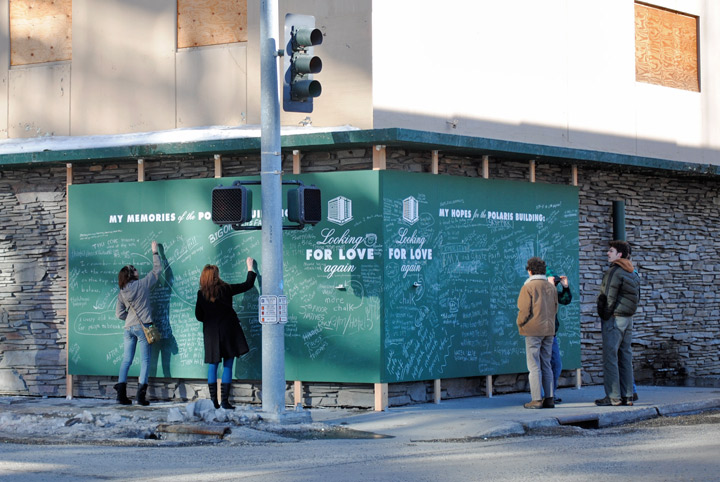 Did you receive any witty responses?
I've enjoyed the range of responses that this little sticker welcomes. And New Orleans is bursting with people with colorful imaginations. It has definitely made my public art projects more entertaining. Some of my favorite responses are the more poetic ones, like "I wish this was Heaven", "I wish this was covered in bacon", "I wish this was Brad Pitt's house", and "I wish this was full of nymphomaniacs with PhDs". That's quite brilliant. And sexy.
Do you advise people to go out into their neighbourhoods and put their point across?
I think there's a lot of constructive information we could share with each other in public space, if given the opportunity. Residents are brimming with local knowledge, resources, and support. But if we don't have ways to easily share this information, then this wealth of knowledge remains largely untapped and we live in areas that function as little more than giant hotels of passing strangers. This makes it easy for the future of our neighborhoods to slip out of our hands. In a built environment where citizens' flyers are illegal yet businesses can shout about their latest products on an increasing number of surfaces, we need to consider whether public spaces can be better designed so that they're not necessarily allocated to the highest bidder but instead, reflect our needs as residents and human beings. Where better to share information with our neighbors than in the very public spaces we share every day? If spaces were designed differently and we were given the opportunity, would we have more to say to each other that would help us improve our places and ourselves?
Are there any projects which were great in theory, but didn't work too well in practice?
Most of my projects are experiments with lots of unknowns, and I try to respond quickly if things could work better. For instance, I started spreading
I Wish This Was
by putting boxes of free stickers in cafes, corner stores, bookstores, bars, hair salons, stores, office lobbies, and other places all around New Orleans. The stickers are printed up with the website address, which encouraged people to share their responses by posting their photos to Flickr or by email. Some people shared their responses, I found some in action by happenstance, and I heard about many sightings around town from people. But a good amount of those stickers went M.I.A. I realized it takes a bit of effort to go through those extra steps of documenting and sharing.
I only had a few thousand stickers and I really wanted to see more responses. So then I focused my energy on putting grids of blank stickers on vacant storefronts so I had control of returning to the scene and documenting the results. I'd start by posting a grid of 20 along with a permanent marker on some poster putty. After a few days I'd check back and document the responses. If there were lots of responses at a certain location I would add more stickers, and this would keep happening until some buildings had more than 70 stickers. Making street art has honed my scrappy spirit, which has helped me roll with the punches and try different things as projects develop.

What change has happened as a result?
It's been really interesting to see the responses from I Wish This Was. Many people have written on each other's stickers with remarks like "me too", "second", "third", "3 votes", or in response to the desire for a bakery: "if you can get the financing, i will do the baking!" And that leads to the bigger question - what if residents had better tools to shape the development of their neighborhoods? What if we could prove there was a strong enough customer base for a new business to open, or push local entrepreneurs to the next step? That's what my colleagues and I are trying to develop with Neighborland. In short, it's the digital version of I Wish This Was and takes the same idea a few steps further to help people shape future businesses and self-organize around shared goals. I just received a Tulane / Rockefeller Foundation Urban Innovation Fellowship to support the project, and we're really excited to develop the tool in the coming months.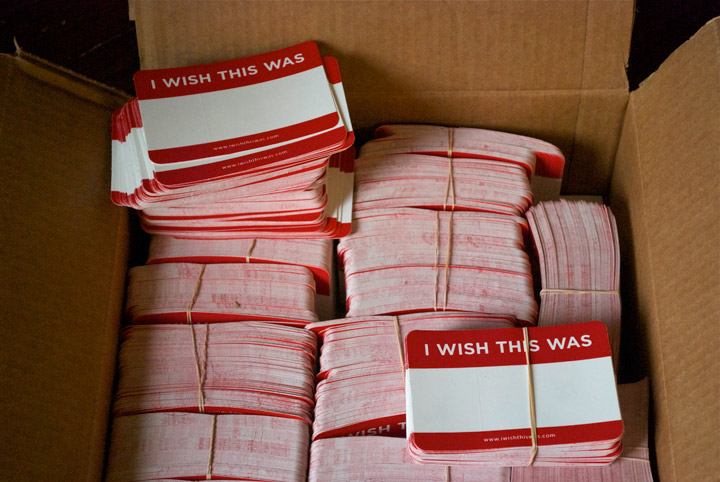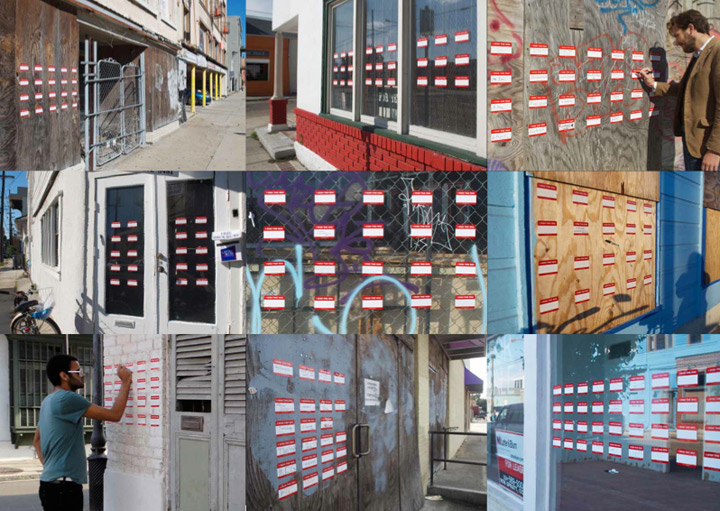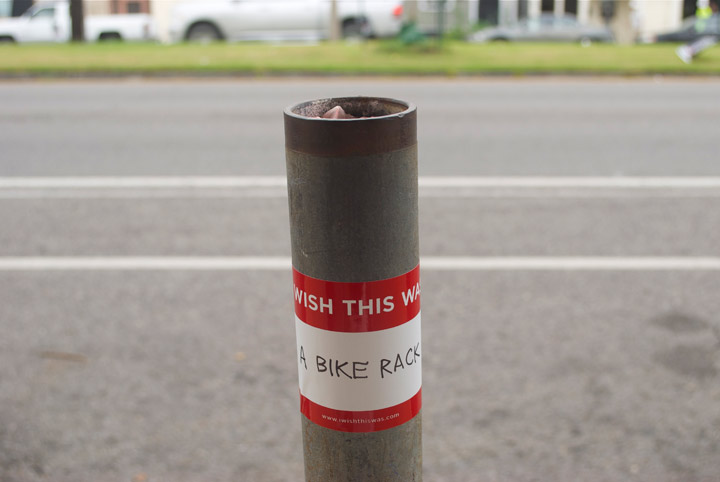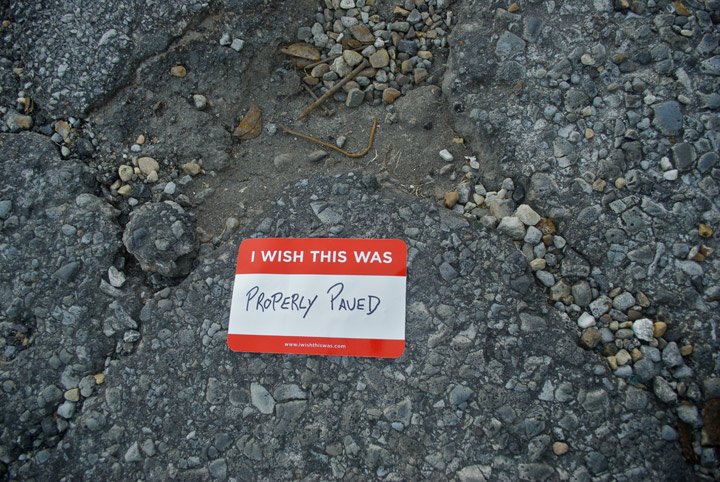 Can you tell us what you have going on right now?
Thanks to the Alaska Design Forum, I was invited to make a public art project in Fairbanks, where the tallest building has stood abandoned for over a decade. I just finished installing it a few days ago. With the help of a lot of new friends, I turned an abandoned high-rise into an emotional beacon pleading for love and inviting people to share their memories and hopes for the building on chalkboards at the street level. You can learn more here. I love the idea of a brutal concrete high-rise pouring with emotion. It was another huge experiment. Putting giant text on a building seemed so easy in Photoshop ha, but hanging a four-story sign was a real challenge that took a lot of Beautiful Mind math and a truckload of ropes. We were afraid it would turn into a giant sail and fly off into the hinterlands. Thanks to the help of a bunch of great guys, it totally worked out. And not only did it work, but the color of the fabric matched the building so perfectly that it seemed meant to be.

I'm going to make a public art project in Finland in June. We're about to start testing and developing Neighborland in New Orleans. I've received hundreds of kind messages and requests to make I Wish This Was stickers in different languages and Before I Die walls in other cities and towns. At Civic Center, we're figuring out ways to expand both projects. We're working on providing a kit with a one-column stencil to make it easy to reproduce the wall. We're also interested in the possibility of traveling to other cities to install it together and learn more about the stories behind these buildings. A book about the Before I Die project is in the works, as well as a project website where people can share their hopes and dreams from all the corners of the world. I'm really grateful for all the love for this project. It means a lot to me and hopefully it will continue to grow for years to come.

More at CandyChang.com.
http://civiccenter.cc/