An in-depth look at the February 2011 Juxtapoz featuring Escif, Swoon, and Michael Leon
Street Art // Tuesday, 18 Jan 2011
1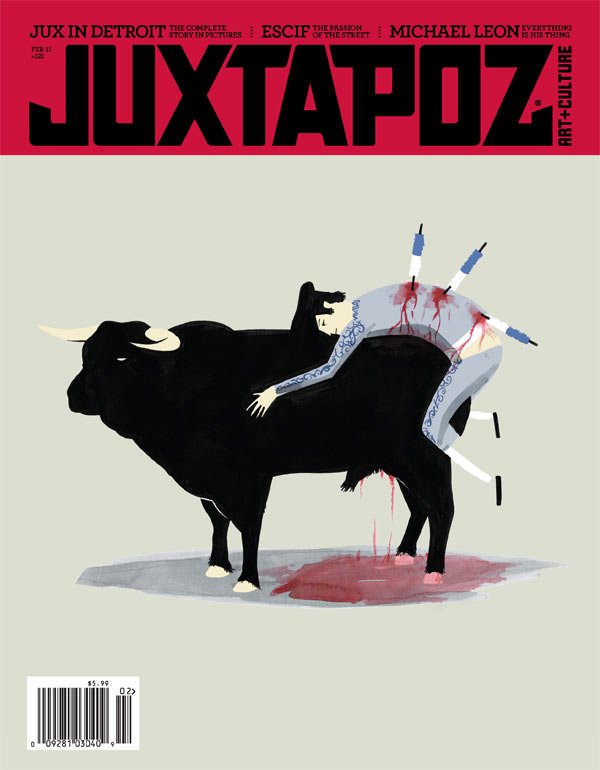 Here are the contents of the February 2011 issue, featuring cover artist Escif.
Escif
—The Valencia, Spain based street, fine, and video artist has been making waves across the Atlantic for creating a gallery-quality body of work that has yet to actual be fully realized in a gallery setting. Tristan Manco explores how Escif has taken a third wave of street art from inside the galleries back out into the streets, and when he plans on moving his murals inside.
Check our online portfolio here.
Juxtapoz in Detroit
—After nearly 18 months in the making, we feature a 26-page photo portfolio by Tod Seelie of the Juxtapoz x Powerhouse Productions project we celebrated in October and November of 2010. Featuring the homes and neighborhood properties we bought with Powerhouse during our 15th Anniversary Auction and Benefit, Seelie's photos capture the works of Swoon, RETNA, Monica Canilao, Richard Colman, Saelee Oh, and Ben Wolf.
Thais Beltrame
—Our Kristin Farr interviews Brazilain fine art illustrator, Thais Beltrame, finding a interesting childhood filled with oddities and inspiration.
Check our online portfolio here
.
Michael Leon
—He has only worked for Nike SB, Supreme, Girl, Rasa Libre, way too many to count, as well as running his own line, Stacks. He is also a talented and sought-after conceptual artist. But he claims that he doesn't have a thing. We beg to differ. CR Stecyk III interviews and agrees with us.
Frank Kozik
—Nearly 40 years into his career as a world famous artist, we think Kozik doesn't even consider himself an aritst. Traditional, maybe not. But artist? He most certainly is.
Buy the issue now in our webstore
, or
SUBSCRIBE NOW and GET the SUBSCRIBER-ONLY COVER.