Image Gallery
The Art of Mickey Avalon
Music // Tuesday, 24 Apr 2012
1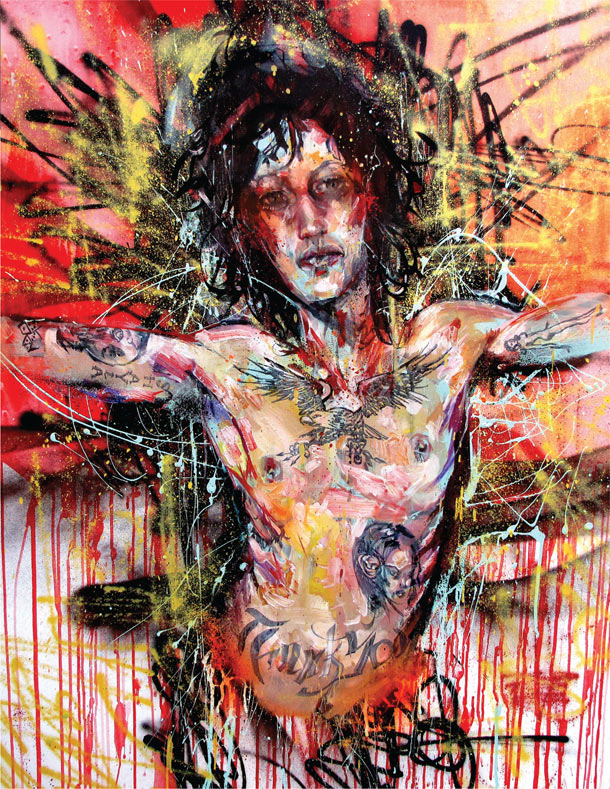 There's a few trends that keep on keepin' on, but the one that continues to defy any foreseeable prediction is that of: white rappers. Chalk it up to Mickey Avalon for glamorizing the latter. He's cleverly marred what's kitschy and indecent in life mixed in among smooth hooks and memorable rhythms. From a guy that signs his name with hearts.
Cute.
We know about Mick's sordid trip down the Ave, hookin' and husslin' and shootin' the Ron that bred his salacious material for a straight shot to musical stardom. But did you remember Mickey's also an avid visual artist? A childhood homie of David Choe? See? The guy's multi-faceted personality, for sure.
When not rappin' about swervin' is way through the night, Mickey doubles as a longtime CBS crew writer and fine artist. At home he favors spending time depicting his daughter with oil paints. Sometimes painting his mom, too. (Who, by the way, is very sweet. She often works his merch table and pays no mind to her son's tales of "fucking yo mom." Yes, really.)
Mickey Avalon's sophmore album, "Loaded," drops today, April 24, 2012. It'll appease a more diverse crowd, i.e. the ravers, with its appealing club beats, then swings right into the backdrop of rock and roll roots that M.A. delivers so well on. Pick it up and enjoy the new round of what Mr Avalon originally brought to us with "Jane Fonda." But this time you get the full artist integration with special offer Mickey Avalon poster by David Choe, inside the album's front cover, an image you saw here first as part of The David Choe Issue of Juxtapoz (seen above).
For more information on Mickey's new album "Loaded," visit Subnoizestore.com and Mickeyavalon.com. —Erin Dyer