Gregory Euclide for Bon Iver Album Cover
Music // Wednesday, 06 Jul 2011
1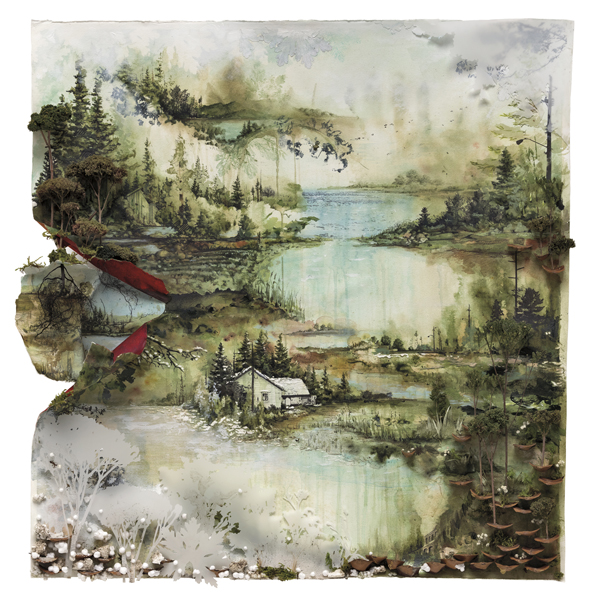 The newest LP from Justin Vernon's Bon Iver project, self-titled
Bon Iver
, has been receiving rave reviews across the music world. We enjoy it for some moody tunes in the late afternoon.
Gregory Euclide
, an artist who has shown with
David B Smith Gallery
in Denver in the past, is the artist behind the album cover of
Bon Iver
.
Euclide sat down with influential music site,
Pitchfork
, to discuss the album cover artwork, which to us is a nice progression on Euclide's past works of lush, dense landscapes of nature, and has said his "work reflects how I experience nature and how this is tied to the cultural practice of constructing landscapes as idealized images."
When Pitchfork asks Euclide about how the cover almost looks like a kitschy grandma paintings, Euclide responds:
"The history of landscape painting is where my work takes its roots from. And those things are always political. Nowadays, you have to search to find those bucolic vistas in real life, and 99% of the time they're shit-- there's a galvanized steel guard rail in front of you and cigarette butts and Doritos bags all around. But people climb out of their cars, take photos of these vistas, and then get back in their cars and drive away on a road that was made by tearing half of a mountain face away.

"So I'm putting these totally kitschy, idealized landscapes inside of these paintings that are just torn apart. I include all this garbage in them-- the Bon Iver cover has found styrofoam in it (below)-- and I cut them up to expose the illusion of those types of paintings."

Here is the album's first single, "Calgary," with a weird, cool little video.