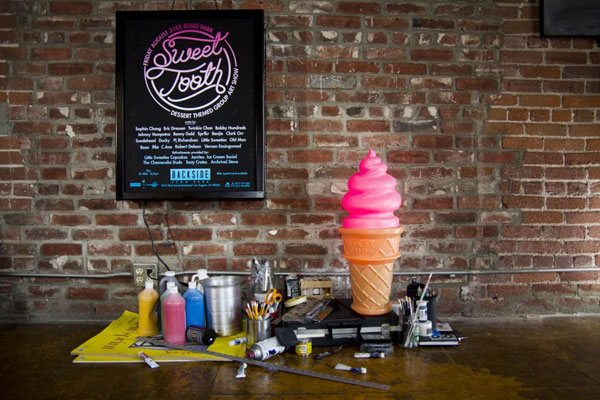 Sweet Tooth: A Group show dedicated to desserts, opens in Echo Park on Friday 8/31. Sweet Tooth is a group art show featuring a selection of dessert-themed art from an all-star line-up of America's most talented contemporary artists & creatives. Opening at Echo Park's own 
Backside
boutique, the delectable group exhibit is comprised of the latest work from of C.Ann, Sophia Chang, Twinkie Chan, Robert Deleon, Eric Dressen, Ducky, Vernon Easingwood, Benjamin Escobar, Bean, Benny Gold, Bobby Hundreds, Old Man, Mo, Clark Orr, PJ Richardson, Sprkfr, Suedehead, Little Sweeties,  & Johnny Vampotna. Sweet sounds provided by DJ Dyer & Lil' Mike. Refreshments, including cupcakes, beer floats, free ice cream, cheesecake, vegan cookies, kettle corn, & grilled strawberry lemon bars provided by Little Sweeties Cupcakes, Jarritos, Ice Cream Social, The Cheesecake Dude, Tasty Crates, Young's Chocolate Stout & Archrival Steve.
Backside is located at 1814 West Sunset Boulevard, Los Angeles, CA 90026.
Doors open at 8pm on Friday, August 31st.